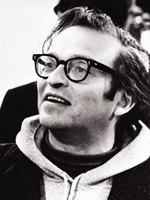 I've had the whole of Sidney Lumet's available DVD catalogue lined up, in chronological order, in my Netflix queue as of late. He was always a filmmaker I looked to in my own pursuits in the field as an idol, someone who seemed to stay way above the fray while consistently cranking out engaging, often seminal work. He had his share of turkeys, but he learned from them and he never stopped evolving as a craftsman.
I recently revisited the brilliant, unfortunately buried (due to "Dr. Strangelove") "Fail Safe." I had my first viewing of "The Hill" not long after, and "The Pawnbroker" should be on the way. "12 Angry Men" and "Network" see frequent rotation on my player, as they are two films that sit comfortably in my personal top 10 of all time.
The legendary titles need no introduction, but who wouldn't see fit to mention "Dog Day Afternoon," "Serpico," "The Verdict" (which screenwriter Travis Beacham shrewdly noted "was 'Michael Clayton' before 'Michael Clayton'" this morning), "Murder on the Orient Express," "Prince of the City," "Equus," "The Anderson Tapes," and on and on and on?
He was a fixture of 70s cinema and a name that somehow lurked a step below the titans of that era when it came to singling out. But he showed a prolificacy that frankly should have placed him a step above those names, producing great films in five decades. And his swan song, 2007's "Before the Devil Knows You're Dead," suggested plenty of fire in the veins and gas in the tank.
But now, he's gone.
I would love to have met Lumet. It never came to pass. I put him on the same shelf as Billy Wilder in that regard, humble artists with more talent in a thumbnail than most who I'd have delighted in even the briefest of conversations, film-centric or otherwise.
He never won a competitive Oscar, though he was nominated five times, four for directing. The Academy did see fit to hand him an honorary award in 2005, however, but the point being, if anyone was too good for that song and dance, it was Sidney Lumet.
Rolling Stone critic Peter Travers may be given to lofty verbiage, but I do think he nailed it on the head in a Tweet this morning: "An incalculable loss to film."
Long live the man and the work.