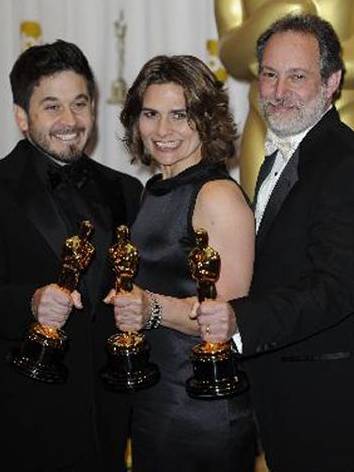 Amid the barrage of critical brickbats tossed at Sunday night's Oscar show — plus the widespread dissatisfaction with certain winners — I didn't see much mention made of this particular milestone, but it strikes me as worthy of note, particularly a year after Kathryn Bigelow's history-making Best Director win.
I'm happy to say that one other category is no longer an all-boys' club: as part of the technically robust "Inception" team, Lora Hirschberg became the first woman (to my knowledge) to win an Academy Award for Best Sound Mixing.
Hirschberg shared the award with colleagues Gary Rizzo and Ed Novick, with whom she also scored her first nod two years ago for "The Dark Knight." (The Cinema Audio Society has been more generous to her over years: dating back to "The Horse Whisperer" in 1998, she has amassed six nominations, if no wins, from that group.)
Anyway, congratulations to Hirschberg. Knocking down that particular pin just leaves Best Animated Feature and Best Cinematography as the lone category in which no woman has yet claimed an Oscar. The situation is worse than that in the latter category: we're still waiting to see a female cinematography nominee. Here's hoping an Ellen Kuras or a Maryse Alberti can rectify that situation one of these days.
[Photo: People's Daily Online]