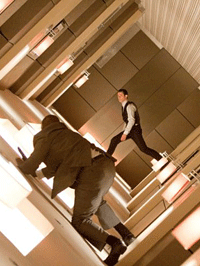 So, the morning after a terrible prediction record at this year's Oscars, I'll try to make some sense of what the Academy told us, and what it means for the crafts artists we got to know along the circuit this year.
As the evening went on, many people began to wonder if "The Social Network" would triumph in Best Picture. While Kirk Baxter and Angus Wall managed to take Best Film Editing (on their second nomination), the very deserved win for Trent Reznor and Atticus Ross in Best Original Score was somewhat surprising. The work trumped Alexandre Desplat for "The King's Speech," despite the latter film's wins in the major categories. Desplat, with four nominations under his belt, could now be considered due, I think.  (Alas, Tom Hooper's later win for Best Director removed doubts about the Best Picture winner.)
The Best Sound Editing, Best Sound Mixing and Best Visual Effects categories unsurprisingly went to "Inception," making Oscar winners of Nolan's usual crew of Lora Hirschberg, Gary Rizzo, Ed Novick, Richard Kind, Paul Franklin, Chris Corbould, and company. I congratulate them and wish them the best for "The Dark Knight Rises."
They were joined by a mildly surprising winner in Wally Pfister in the Best Cinematography category. I'm thrilled for him and feel that the sheer logistics of pulling off "Inception" were astonishing. I do also suspect, however, that this might slow down the rate at which the branch sees fit to nominate him. As for poor Roger Deakins, his spot in film history is undeniable. Alas, he seems to have the worst luck in the world in this category. He's going to have to win one of these years, right?
Hopefully Randy Newman gave Deakins some comfort this year. His second Oscar was for a fairly mediocre tune (as was his first), but I cannot complain too much given how much he has contributed to films, and the "Toy Story" franchise in particular, over the years. "127 Hours" going home empty-handed was not altogether shocking.
Best Art Direction was the sole category where even my alternate didn't win, as "Alice in Wonderland" trumped "The King's Speech" and "Inception." Robert Stromberg is an amazing talent, but I thought his work here was over the top.  Tim Burton's films are now 4/4 when nominated in this category.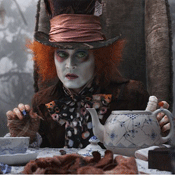 As soon as "Alice in Wonderland" won Best Art Direction, I was certain that it would win Best Costume Design, as Colleen Atwood tied Sandy Powell with a career total of three wins. The two of them are undeniably at the top of their field, and I am pleased that we'll continue to see them working for years to come.  Jenny Beavan remains a one-time winner and, while I cannot predict the future, I have a feeling she'll remain one.
The category that five weeks ago I thought would belong to "Alice in Wonderland" – Best Makeup – became a toss-up when Valli O'Reilly was not nominated. While I gambled on "Barney's Version," I cannot really object to Dave Elsey and the great Rick Baker winning for "The Wolfman."
Elsey's nod to his certainly legitimate thrill of winning an Oscar with Rick Baker was heartening to see. I think that reflecting on Elsey's comment to his co-winner is an appropriate note to end on. After all, it demonstrates the commitment of these artists to excellence in their crafts, and how they seek to emulate that excellence. But it also shows their respect of each other. I'm sure this goes far beyond these two.
So that's it, eh? I should congratulate all of these artists, and am sure they will look back on this as one of the highlights of their career. As for the Academy, they will be back, trying to marshal the best of the work of those who improve our films in immeasurable ways behind the camera.
[Photos: Warner Bros. Pictures, Walt Disney Pictures]