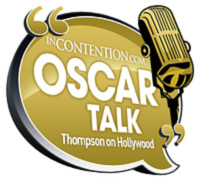 Welcome to Oscar Talk.
In case you're new to the site and/or the podcast, Oscar Talk is a weekly kudocast, your one-stop awards chat shop between yours truly and Anne Thompson of Thompson on Hollywood. The podcast is weekly, every Friday throughout the season, charting the ups and downs of contenders along the way. Plenty of things change en route to Oscar's stage and we're here to address it all as it unfolds.
The 2010-2011 film awards season has finally drawn to a close. And what a ride it was. After a weekend full of parties and awards shows, Anne and I are here on the final day of coverage this season to offer our thoughts on what was. So let's get on with it and see what's on the docket today…
• The long weekend started Thursday with an IFC Films party at Soho House (which housed a number of gatherings this week), continued through some events on Friday, and a big day on Saturday. We recount what we were up to throughout.
• Also on Saturday were the Independent Spirit Awards. Both Anne and I were on hand. We give our thoughts on the winners and reaction to the growing pains of the production.
• Let's see, what else? Oh yeah, the Oscars happened. Naturally, there is plenty to talk about, from prediction tallies to winner thoughts to, of course, the production itself.
• And finally, a couple of reader questions. Not too many this time, though, but thank you for submitting.
Thanks to everyone for listening. The second year of Oscar Talk has been a blast and I hope we entertained and, in some small way, informed you along the way. And thanks, of course, to my colleague Anne Thompson for being a class act and a formidable colleague.
Have a listen to the new podcast below. If the file cuts off for you at any time, try the back-up download link at the bottom of this post. And as always, remember to subscribe to Oscar Talk via iTunes here.
[display_podcast]

Back-up download: Oscar Talk Episode 55