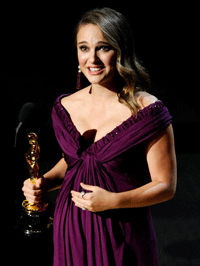 Steven Spielberg couldn't have put it more concisely during his presentation of the Best Picture category last night.  To paraphrase, he noted that whichever films did not happen to win Best Picture this year would join the ranks of numerous classics of the medium.
Was it preemptive damage control?  I hope not.  Why be apologetic?  Was it lecturing?  Maybe a bit, and I think a great many needed to hear it again (unfortunately).  But it felt so incredibly inside baseball that it was probably completely unnecessary.  After all, a very popular film won Best Picture this year.  It seems silly to address a media concern (albeit one shared by plenty of cineastes).
Ultimately, the season ended where many thought it might, going way back to the early days of September.  Some held out hope that David Fincher could take the lead in his field on respect and admiration alone, but Best Picture and Best Director will always be a better bet in lock-step.  The real post-show discussion focused on the ceremony itself, which was, mercifully, a short affair this year.  Just over three hours.  But they were three kind of excruciating hours.
What was James Franco's endgame?  Was it some sort of Banksy-like subversive statement?  Did he freeze up?  Was he "feelin' good?"  I really don't know.  He seemed ill-at-ease, and the chemistry was non-existent with Anne Hathaway.  Whatever the point may have been, it was cloudy, unclear, unfocused, much like the show itself.
Everyone seems to be pleased with an opening montage segment that I confess I can't even remember.  The MTV Movie Awards comedy intro with the different films — trite.  It was a great stage set, but it wasn't used in a very organic way.  And the writing was just wildly uneven.  Basically, I feel Roger Ebert's Tweeted pain.  It was one of the worst Oscar shows I've seen.
As for the winners, the surprises numbered zero.  Best Sound Mixing excepted, it was guild winners all the way down the line.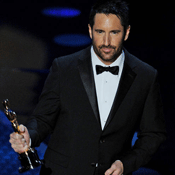 Trent Reznor and Atticus Ross winning Best Original Score was called by many, but still felt just atypical enough to be a bit exciting.  "Alice in Wonderland," as my hair-pulling research showed, made a lot of sense for Best Art Direction, and its ensemble of threads was always a fair enough call for Best Costume Design (even if it is now only the third fantasy film to win the award).  But it's still odd that Best Picture winner "The King's Speech" failed to win in a single craft category.
Speaking of craft fields, Roger Deakins remains Oscarless.  Part of me is glad he didn't win for attractive but, by his set standards, lesser work for "True Grit." If Matthew Libatique was destined to lose for "Black Swan," then I'm very pleased with Wally Pfister getting his due, adding to a four-Oscar haul for "Inception" that matched the Best Picture winner's tally.  And maybe Christopher Nolan's name was spoken in enough speeches to shame the Academy just a bit for snubbing him yet again.
(Deakins, by the way, has good company in an another skilled craftsman, sound mixer Greg P. Russell, who racked up his 14th loss.  One day…)
In the Best Short Film (Animated) field, I felt a swell of support behind "The Lost Thing" in the final week, and it began to make some sense.  But I just stuck with my earlier inclination of "Madagascar, a Journey Diary" wowing with its technique.  And if I'm kicking myself for anything, it's going with "Exit Through the Gift Shop" in the Best Documentary (Feature) category at the last minute after succumbing to the "Inside Job" logic earlier in the week.  I guess I went with my passion on that one, and so the Banksy saga ended by fading away when it could have been sold with a rather suspenseful "will he or won't he" build-up.
And those are the six fields I missed, putting me at 18/24 alongside our own Guy Lodge and Rope of Silicon's Brad Brevet for predictions.  Deadline's Pete Hammond, despite misses in two of the eight major categories (all of which I nailed for only the second time in the 10 years I've been doing this online), managed to best all comers with 19 correct guesses.  (I'll get to our pool winner in a separate post.)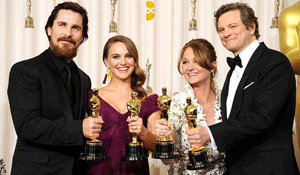 The Coen brothers' "True Grit" bottomed out, 0-10, in league with Martin Scorsese's "Gangs of New York" and just shy of "The Turning Point" and "The Color Purple" on the all-time Oscar loser list.  A shame.
I thought Christian Bale gave one of two grand speeches this season (the other being at the Critics' Choice Movie Awards, while his Golden Globe and SAG acceptances were a bit off the mark).  Randy Newman and short film winner Luke Matheny really charmed with their natural reactions, while Natalie Portman finally nailed down a classy speech, looking absolutely gorgeous.  Colin Firth also gave yet another dignified and graceful acceptance.
On the other side of the spectrum — no shock — was Melissa Leo's display.  But part of me was nevertheless happy she made it out of Adgate in one piece, as it would have been a shame for her to always wonder if she had screwed herself out of an Oscar.
Also — and maybe it's just me — but every time he's on Oscar's stage, Kevin Spacey proves why he should be seriously considered for the emcee job.
Anyway, that's my postmortem.  We have a few more loose ends to tie up this morning before fully closing the book on the 2010-2011 Oscar season, including one last Oscar Talk.  But for now, Off the Carpet goes into slumber.  Thanks for reading.  And if you still somehow don't know the winners, check them out at The Circuit.
[Photos: Associated Press, Getty Images]