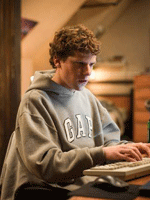 Today's the big day. No more Oscar Guide, no more polls, just a few choice hours left in the season and then, the 83rd annual. (And not a moment too soon.)
I appreciate everyone participating in the daily polls this month and last, which accompanied each of our Oscar Guide entries. It offers us a nice glance at the majority opinion of how the race SHOULD go down, so I'm happy to offer up, for the second-straight year, the In Contention Readership Ballot.
There were a handful of frisky choices this year, though not too many. Your big winners were Christopher Nolan's "Inception" and David Fincher's "The Social Network" (which is owed Best Picture by your estimation).  Both films racked up five of your wins.  Nothing else was close. And, interestingly enough, the film likely to walk away with the most awards tonight? It only deserves one prize in your book: Best Actor.
Check out the ballot after the jump, and good luck to your favorites tonight.
Best Picture
"The Social Network"
Best Director
David Fincher, "The Social Network"
Best Actor
Colin Firth, "The King's Speech"
Best Actress
Natalie Portman, "Black Swan"
Best Supporting Actor
Christian Bale, "The Fighter"
Best Supporting Actress
Hailee Steinfeld, "True Grit"
Best Writing (Adapted Screenplay)
"The Social Network"
Best Writing (Original Screenplay)
"Inception"
Best Art Direction
"Inception"
Best Cinematography
"Black Swan"
Best Costume Design
"I Am Love"
Best Film Editing
"The Social Network"
Best Makeup
"The Wolfman"
Best Music (Original Score)
"The Social Network"
Best Music (Original Song)
"If I Rise" from "127 Hours"
Best Sound Editing
"Inception"
Best Sound Mixing
"Inception"
Best Visual Effects
"Inception"
Best Animated Feature Film
"Toy Story 3"
Best Foreign Language Film
"Dogtooth"
Best Documentary (Feature)
"Exit Through the Gift Shop"
Best Documentary (Short Subject)
"Poster Girl"
Best Short Film (Animated)
"Day & Night"
Best Short Film (Live Action)
"God of Love"
[Photo: Columbia Pictures]