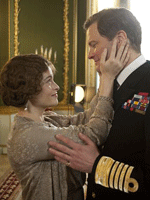 Yesterday was a bit of a whirlwind.  The Indie Spirits was a lovely affair, though they really need to figure out the show aspect because it kind of fell apart this year.  I didn't see it on television so maybe it was edited into shape, but in the room, it just felt like chaos.
I spoke to Aronofsky — for the first time since he finally made my list, he noted.  The guy is paying attention.  I wished him the best of luck tonight but he shrugged it off, knowing much of anything beyond Natalie Portman winning just isn't in the cards.  Nevertheless, it's been a long, wonderful journey for the film, especially when you look at those box office numbers.
Mostly I was stoked to see an old college buddy, "Cold Weather" producer Brendan McFadden.  He and director Aaron Katz are still working on that werewolf buddy cop script we told you about recently, and there's a western in the cards, too.  Here's hoping those ambitious projects take off.
Speaking of long journeys, after a quick stop by the HBO documentaries party at the Four Seasons (where I tried to suss out the winners in those fields, to no avail) it was off to Soho House and The Weinstein Company's toast to their nominees, chief among them: "The King's Speech." And I have to say, I was really looking forward to it.
The first interview Tom Hooper, Colin Firth and Geoffrey Rush did for the film was our 45-minute sit-down in Telluride.  That was way back in early September, and throughout the circuit, beyond a brief hello to Firth at the Critics' Choice Movie Awards, our paths haven't crossed again.
Firth remembers that early season chat because it was the calm before the storm, the beginning of a press tour which would go up several notches a week later in Toronto.  So I was eager to hear from him here at the end of things.
"It's not a terrible thing for one to be fatigued," he said.  "It just means you've done something that people are responding to."  A gracious way of putting it for a guy who has been exhausting the circuit for two straight years.  And he has remained as graceful as possible, every step of the way.  He'll be an Oscar winner we can be proud of, I think.
Also at the party were Tom Hooper and Helena Bonham Carter (with hubby Tim Burton in tow).  I didn't manage to speak to either but I did find myself at the bar with the film's delightful costume designer Jenny Beaven.  She last won an Oscar 20 years ago for "A Room with a View," ironically enough, Carter's first film.  Beaven says, by way of compliment, that the actress hasn't changed one bit in all that time.
The party was still jumping when I left after midnight (just as Bradley Cooper and Leonardo DiCaprio were showing up).  Jeremy Piven was mingling about.  As was "Get Low" director (and newly awarded Indie Spirit winner) Aaron Schneider.  (Rush did not attend, as he was back in New York where he is still doing a play.  He's just flying in for the Oscars tonight.)  Who knows how long it went into the night?  But it was definitely the place to be on Oscar eve — well, the place to be of those that will allow riff-raff like me through the door, anyway.
Now, if you'll excuse me, I have to go prepare myself to be wrong all over the place.  (Seriously, much of the night was spent trying to nail down this or that, but this is a weird, tough race to call.)
[The Weinstein Company]