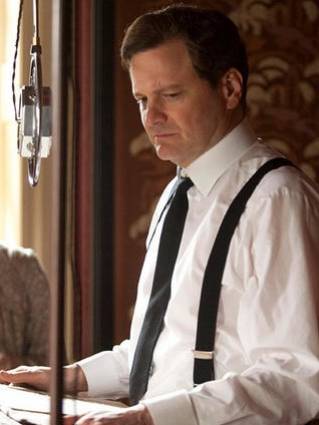 "Oh Sister, I have such doubts!"
I'm not given to quoting overwrought (if Oscar-nominated) ecclesiastical dramas at the best of times, but let's face it, this is not the best of times. There comes a time in every Oscar-watcher's life when he has to accept the things he cannot change — or simply stop changing the many, many things he can — and commit to some bloody predictions already.
That time has come particularly late for me this year, just a few hours ahead of the ceremony that will finally answer such burning world issues as whether Colleen Atwood will win her third Oscar tonight, or Jenny Beavan her second. I had my reasons for stalling — only this afternoon did I complete my viewing of all the short film contenders, meaning I have now seen (or at least skimmed) everything up for an award tonight save, unavoidably, "Country Strong." (Sorry, Gwyneth, but I'm rooting for ya anyway.)
I had planned to write a category-by-category breakdown of each category, as I usually do, but the hour for that level of detail has passed. In any case, I suspect we all share the same certainties and uncertainties (five of which, in particular, I discussed on Friday) in this odd, momentum-swinging year, so there seems little point in rehashing what we're all thinking anyway.
So allow me to get away merely with selecting a few of the most salient points from this year's guessing game. And a guessing game it most emphatically is: for a year in which almost all industry signs have pointed to one film, I'm amazed how fluid vast sections of the race still feel. I feel 100% certain about only a third of the 24 categories up for grabs: perhaps the lowest number I can remember in 20 years of Oscar-watching.
Strangely, the number of blind spots isn't due to the lack of a frontrunner — we clearly do, though I maintain that "The King's Speech" doesn't have the Best Picture prize wholly in the bag. Rather, it's because we have little way of knowing just how strong said frontrunner's hold over the Academy is; it's rare to have a nomination juggernaut like Tom Hooper's film that could feasibly win as few as three Oscars, or as many as ten.
In anticipating four statuettes for the rah-rah royal biopic, I've wound up on the low end of the "Speech" sweep equation — probably too low, I suspect. Indeed, I was surprised to tally up my predictions to find a three-way split of four awards each for "The King's Speech," "The Social Network" and "Inception": the Academy is rarely that democratic, but in a year like this, I feel more comfortable hedging my bets.
The categories that worry/intrigue me most continue to be the five I mentioned on Friday. I'm sticking with my initial instincts on all of them, having jumped off the "Waste Land" boat I briefly boarded in Best Documentary Feature and returned to the warm embrace of "Exit Through the Gift Shop" — if I'm going to be wrong, I want to go down representing for the best film of the lot, damn it. And part of me wonders if getting the nomination was the bigger hurdle for this most unorthodox of contenders.
As for everyone's biggest chin-stroker in the major races, Best Supporting Actress, I stand by my assertion that any of the five nominees could win. I still, however, see no compelling reason no veer from my season-long prediction of Melissa Leo — I can't help feeling that the hostility being directed toward the feisty actress comes more from the blogosphere than the industry. (That said, after checking into my London hotel suite this afternoon, the first face that greeted me, from a pile of fanned-out magazines, was that of Amy Adams — such are the vague signs that can make a frayed Oscar pundit crumble.)
You won't find too many out-there calls on my final predictions page — perhaps my most against-the-grain move comes in Best Original Score, where I'm counting on the Academy voters' occasional hip streak to come through with a win for the most talked-about of the nominees, though I fully admit there's a healthy dose of heart in that particular prediction.
The short categories, as always, are something of a crapshoot, though there's a rationale behind my guess in each case: "God of Love" is the most polished of the live-action nominees (though voters may find others more endearing), "The Lost Thing" is the most emotive of the weak-sauce animated shorts (and Pixar has never won both the short and feature awards in the same year) and "Strangers No More" is the uplifting of the short documentaries (though honestly, throw a dart at the board here).
And there ends the thinking part of my Oscar day. The rest of my evening will be given over to party preparations, drinking, friends, drinking, dinner and a little more drinking — before a bunch of us settle in for the big show. I'll be offering up the occasional inebriated observation on Twitter if I feel so inclined, but after six months of puzzling this night out, my goal is for it to feel as little like work as possible.
That just leaves me one thing to do, and that's share my own dream outcome for tonight's awards. My predictions can be found here, but below is what my ballot would look like (complete with preferential Best Picture ranking) if I were an Academy voter. Fat chance, on both counts. Happy Oscar Day, everybody.
Best Picture
1. "The Fighter"
2. "Black Swan"
3. "The Kids Are All Right"
4. "Winter's Bone"
5. "The Social Network"
6. "Toy Story 3"
7. "True Grit"
8. "Inception"
9. "The King's Speech"
10. "127 Hours"
Best Director
Darren Aronofsky, "Black Swan"
Best Actor
Jesse Eisenberg, "The Social Network"
Best Actress
Nicole Kidman, "Rabbit Hole"
Best Supporting Actor
Christian Bale, "The Fighter"
Best Supporting Actress
Jacki Weaver, "Animal Kingdom"
Best Writing (Adapted Screenplay)
Debra Granik and Anne Rosselini, "Winter's Bone"
Best Writing (Original Screenplay)
Mike Leigh, "Another Year"
Best Art Direction
Jess Gonchor and Nancy Haigh, "True Grit"
Best Cinematography
Matthew Libatique, "Black Swan"
Best Costume Design
Antonella Cannarozzi, "I Am Love"
Best Film Editing
Andrew Weisblum, "Black Swan"
Best Makeup
"Barney's Version"
Best Music (Original Score)
Trent Reznor and Atticus Ross, "The Social Network"
Best Music (Original Song)
"Coming Home" from "Country Strong"
Best Sound Editing
"TRON Legacy"
Best Sound Mixing
"The Social Network"
Best Visual Effects
"Inception"
Best Animated Feature Film
"The Illusionist″
Best Foreign Language Film
"Dogtooth"
Best Documentary (Feature)
"Exit Through the Gift Shop"
Best Documentary (Short Subject)
"Sun Come Up"
Best Short Film (Animated)
"The Lost Thing"
Best Short Film (Live Action)
"God of Love"
[Photo: The Weinstein Company]