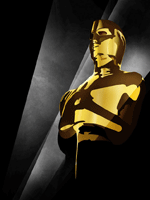 Alright, I'm ducking out of here for the night.  Feel free to use this space to discuss the show, the winners, whatever strikes you.  The red carpet starts up in about two hours.  I don't think there will be too much strain on the server, but if things get sluggish, have patience with us.
If you're looking for a live stream of the Oscarcast, I'm told you can watch here and, of course, Oscar.com (if you don't mind paying five bucks).  I imagine Justin.tv will have a page, too.  You can check the rundown of awards presentations here.
Once again, if you haven't joined our pool at Picktainment, do so here.  Meanwhile, my final predictions are here, Guy's are here and Gerard's are here.  The aggregated picks of others can be found at Awards Daily, Gold Derby and Movie City News.
And…that should about cover it.  Enjoy the show, be safe, have fun, all of that good stuff.  The checkered flag is in sight.  Check back tomorrow for the season's final Oscar Talk as Anne and I pick up the pieces and try to figure out what happened.
[Photo: AMPAS]