And so we come to the end of this year's Oscar Guide, and the category that has been the cause of more conversation than ever this year: Best Picture. And that can't be overstated. I can't recall the last time the debate around a Best Picture winner was so heated, and I'm tempted to say it was, in some way, good for us all.
There was a lot of passion around favorites this season. A LOT. In some cases, it might even be considered oppressive passion, but it's worth it to have such strong opinions about the films we love. We may choose to convey those opinions in different ways, modest or broad, but that the pulse of film adoration is this strong at a key moment in the medium's progression is, indeed, heartening.
The nominees are:
"Black Swan" (Mike Medavoy, Brian Oliver and Scott Franklin)
"The Fighter" (David Hoberman, Todd Lieberman and Mark Wahlberg)
"Inception" (Emma Thomas and Christopher Nolan)
"The Kids Are All Right" (Gary Gilbert, Jeffrey Levy-Hinte and Celine Rattray)
"The King's Speech" (Iain Canning, Emile Sherman and Gareth Unwin)
"127 Hours" (Christian Colson, Danny Boyle and John Smithson)
"The Social Network" (Scott Rudin, Dana Brunetti, Michael De Luca and Ceán Chaffin)
"Toy Story 3" (Darla K. Anderson)
"True Grit" (Scott Rudin, Ethan Coen and Joel Coen)
"Winter's Bone" (Anne Rosellini and Alix Madigan-Yorkin)
It's a shame that with 10 nominees in the field this has still been whittled down to two contenders two years in a row. I hope the precursor circuit can ultimately be more inviting of a wider spectrum next year, so fringe contenders can still feel competitive.
One film that was thankfully propped up by the critics most of the season was Darren Aronofsky's bold, evocative exploration "Black Swan." The film is, in this viewer's humble opinion, the best of the lot and due this award. But it's assuredly low on the list of priorities in this category. Still, it maintained a surprising foothold all season, one of only two films in the line-up (the other not being a frontrunner itself) to score recognition from every single industry guild or society. That's something to take with you, dare I say it, more than an Oscar, which is ultimately an exclusive arena given to conservatism. It also proved such material could hit in unexpected ways at the box office. I might suggest others feeling disheartened at the expected outcome take similar solace.
Not that one can really know, but the bronze medal of the year appears destined for the neck of David O. Russell's modest yet colorful boxing and familial drama "The Fighter." A labor of love for actor and producer Mark Wahlberg for the better part of a decade, the film is somewhat traditional but also invigorating, hitting familiar notes but in a few unique ways. The casting was perfect from the outset and the ensemble delivered a memorable, vibrant performance, and it may yet yield two performance Oscars. That's nothing to sneeze at. There was a moment when it appeared the film could be neck-and-neck with the second-place horse, but it never quite turned on the juice enough to compete for first. And that's fine. It's a dream finally fulfilled for the dedicated Wahlberg.
Films like "Inception," one might say, are the reason the Best Picture field was expanded to 10 nominees. But for a long while during the precursor circuit, it appeared to be more than just a token blockbuster on the second tier, but a formidable contender even in a five nominee spread. Reality came crashing when director Christopher Nolan failed to be recognized, again, by his fellow directors, while the film's complex editing was rebuffed by the editors branch — two key nominations to be missing if you're to be a thoroughbred threat. Nevertheless, it's the film that captured the imaginations of many this season and became a beacon to be followed out of the stagnant days of Oscar's past. How ironic, then, that Oscar's past looks to be more alive than ever in this year's expected Best Picture winner.
A film like "The Kids Are All Right" could have been a major player even in a five nominee scheme.  It was the comedy of choice throughout the season. The critics and industry alike championed its engaging narrative and social message, but it ultimately only managed four nominations. So one can't be sure how deep the appreciation runs, or, perhaps, how much it may have just dried up (as the film has been in play since Sundance in January of 2010). But its lead actress contender continues to threaten the frontrunner in that field, so it has plenty of fight left. That fight likely doesn't extend to this field, however, as it feels more like a bottom tier candidate at the end of the day. Surviving that long a gauntlet is commendable as it is, though.
Speaking of long gauntlets, early September 2010 might not be as far away as mid-January, but "The King's Speech" was still, along with "Black Swan" and "The Social Network," the first legitimate conversation piece of the film awards season. Since that first bow at Telluride, it has been winning over crowds, scooping up audience awards and charging ahead as the one to beat. And with all that, a few critics somehow changed the discourse and, even, the perception of the race by walking in lock-step behind a chosen candidate. It's strange, when you look back on it, that the doubt was able to settle in, but in the loudest Oscar season I've yet covered, it's actually easy to understand how the whole mixture could begin to blur. And here it sits, five months later, still the one to beat.
There ended up being slightly more Academy support for Danny Boyle's daring "127 Hours" than anticipated. The real surprise was a film editing nomination after the American Cinema Editors opted out. When you think about the idea that no film has won Best Picture without a film editing nomination in 30 years, you begin to understand why it would be fair to be a little more considerate of how well this film was received within the Academy. But it was, in all likelihood, a beneficiary of Oscar's 10, given it's incredibly atypical register. It gets the added boost of exposure with its star being tapped as host for the 83rd annual Academy Awards, but it still hit a bit of a wall at the box office (though last year proved that doesn't have to be an impossible hurdle). The nod is a lovely feather in its cap.
No film has experienced the roller coast of Oscar season like "The Social Network" in quite some time. It went from being highly respected but assumed too cool for Academy school to "the one" to be elevated by the critical fraternity via precursor circuit awards to, suddenly, a likely Best Picture victor. There was maybe a week post-holidays that it appeared the film had the award in hand, but that was obviously the food coma talking. No, David Fincher's tight, poignant character study doesn't look likely to fully recuperate after the industry spoke its own mind on the matter, but eight nominations, nearly $100 million for a talky October drama and Fincher's further solidified status as one of our modern treasures of the form is, in the final analysis, a pretty good deal.
The 10 has opened things up for what is already being called "the Pixar slot," though that will be challenged this summer with a sequel to the studio's least respected effort. But for now, "Toy Story 3" gets the honors as the third animated feature to be nominated for Best Picture, and for my money, it's quite possibly the best of that group. The film wrapped up a beloved trilogy of films, making the franchise that rare breed that just got better with every step it took. The closing chapter is moving and mature and quite the underrated piece of work on the page, an impeccably structured and well-considered story that had a lot to live up to, and massive shoes to fill. It will receive recognition in the form of an Oscar, but this doesn't look like it will be the category. What a rush that would be, though.
And what a rush it is to see the western alive and well, with critics and audiences alike. The Coen brothers' "True Grit" seemed a dubious project for some, a remake of the classic John Wayne film that won The Duke his Oscar. But here we get The Dude, and more of a re-adaptation than a remake. It is a pure piece of cinema, every bit the slice of skewed Americana we might expect from the Coens, and a truly unfussy work of delicate art that would have a fighting chance in any year. The brothers have become new favorites of the Academy, each of them racking up their 11th, 12th and 13th nominations for the film (as producers, directors and screenwriters). And it was likely one of the top five, given how the nominations came down.
Finally, there is one other film that managed to stay alive ever since Sundance 2010, and that was the backwoods noir "Winter's Bone" from director Debra Granik. The film nailed down the exact same four nominations as its Park City cousin, but more importantly, announced the arrival of a hot young talent for those not already in the know. That it managed a spot here indicates a passionate core of support for the film within the Academy, while other, more broadly liked films were left on the outside looking in. But it seems to me it is near the very bottom rung, judging from nomination tally if nothing else. Not that anyone is thinking about predicting this as an upset, mind you. It's a big win for independent cinema and for specialty distributor Roadside Attractions.
Will win: "The King's Speech"
Could win: "The Social Network"
Should win: "Black Swan"
Should have been here: "Exit Through the Gift Shop"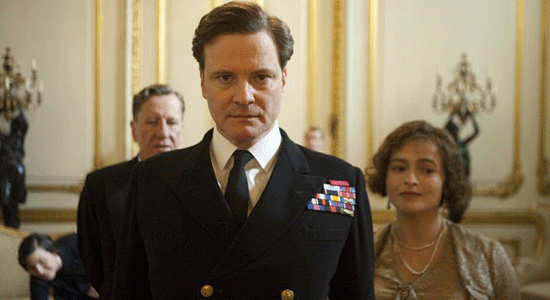 Check out my current rankings for this race at its dedicated Contenders page here.
What do you think deserves to win the award for Best Picture? Have your say in today's sidebar poll!
[Photos: Focus Features, The Weinstein Company]