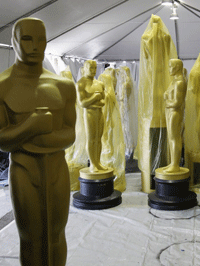 Catch up with the idea behind these weekend posts here.
Well.  Here we are.  It's probably going to be kind of difficult to use this weekly open thread for anything other than Oscar chatter, given tomorrow's festivities, but here's the space nevertheless.
The Oscar Guide has been another lovely success this year and I thank everyone for the discussion and voting.  It's come to be a nice way, for me, anyway, to fully consider things during phase two while ticking off the calendar days, eyes on the prize the whole way.  Tomorrow I'll post what would essentially be the In Contention readers' ballot, the results of our daily polls.  You can dive back in and revisit the categories here.
Today brings the Independent Spirit Awards, moving back to the beach in Santa Monica after trying downtown out for a year.  I'll be on hand, but it will be TV-delayed, so if you want the winners first hand, follow me on Twitter.  Show begins at 2pm PT.
The only Oscar story I participated in this year was this Susan Wloszczyna USA Today piece, because I appreciated the balanced approach she was taking.  I think that, even though it comes at the end of a slew of "The King's Speech" vs. "The Social Network" stories, it is a solid final word on a wildly passionate season.
(Actually, now that I think about it, I spoke on Christopher Nolan for a Brian Truitt USA Today piece that should hit some time this weekend, I guess.)
Anyway, not much else to throw out at you.  The coverage is ubiquitous this week, so if you're dying to talk about something else, here's your open thread.  (And remember to join the Oscar pool.)
[Photo: Reuters]