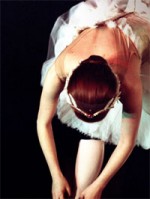 Kris was on the scene at the Independent Spirit Awards today, and will, I'm sure, have some first-hand commentary to add later. For now, let me lead the cheers for "Black Swan," which finally had its moment in the sun this awards season.
Two years after its sort-of-sibling "The Wrestler" nabbed the top prize, the surprise crossover hit took four awards, including Best Feature and Best Director for Darren Aronofsky — the third Spirit win of his career, though his first for directing.
The only other multiple winner of the ceremony was fellow Best Picture Oscar nominee "Winter's Bone," which took a well-deserved brace of supporting trophies for John Hawkes and Dale Dickey — the film's only reward for a field-leading haul of seven nominations. "Exit Through the Gift Shop," meanwhile, was a popular victor in the Best Documentary category.
All good wins, though I do chuckle every year at these voters' reluctance to rock the boat. For a group that boasts of their "independence" in their very name, they never fail to shadow the Academy by rewarding an Oscar nominee in every category that features one — going so far as to hand "The King's Speech" their Best Foreign Film award.
It's the second year in a row the award has gone to an English-language Best Picture nominee: "An Education" took the prize last year. Coincidentally, a reader asked yesterday why the Academy doesn't drop the foreign-language requirement from their foreign film award. Here lies my answer.
Full list of winners at The Circuit.
[Photo: Fox Searchlight Pictures]