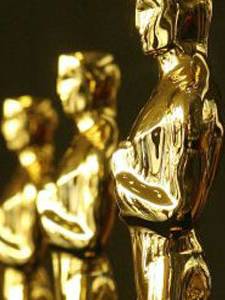 • We made you wait for it this year, but finally: Kris's Top 10 Shots of 2010, parts one and two.
• This week's Off the Carpet column surveyed where the season has brought us thus far, and began tying the loose ends…
• …culminating later in Kris's final Oscar predictions of the 2010 season.
• Guy's final Long Shot column of the season celebrated the season's losers, while calling for a return to movie talk away from the subject of awards.
• Our Oscar Guide feature stepped it up, covering Best Director, Actor, Actress, Foreign Language Film and Film Editing.
• Speaking of the foreign-language category, Guy collected his conflicted thoughts in this year's five nominees.
• Tech Support joined the final predictions game, with Gerard giving his best guesses in below-the-line categories.
• A minor embarrassment for "The King's Speech," as evidence emerged that a key set many assumed was the film's own creation was used for a gay porn shoot years before.
• Speaking of which, Kris mused on this year's tricky Art Direction and Costume Design races, which also featured among the categories giving Guy trouble.
• "The Social Network" clawed back some Guild respect with an American Cinema Editors win, while "True Grit" surprised with the Cinema Audio Society.
• We returned to Jeff Bridges for another interview, this time specifically on the subject of westerns.
• In this season's penultimate episode of Oscar Talk, Anne and Kris argued out their predictions together.
• We learned of two Oscarcast elements being dropped for a more streamlined show: the themed montages and the five-way acting presentations.
• The Berlin Film Festival wrapped with an awards sweep for Iran's "Nader and Simin, a Separation." Keep an eye on that one.