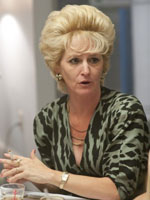 With a little over 48 hours until the big night, I find myself in an uncommon state of disarray — my crammed Oscar weekend "To Do" list includes viewing all 15 short nominees in order to make an informed dart-throw of a prediction (stickler that I am, I held out for a theatrical screening), preparing copious supplies of food and alcohol for my second annual hotel-suite Oscar party (sorry, the guest list is full) and somehow finding time to write a final predictions piece.
Before I can check off that last task, however, I actually have to settle on some final predictions — and despite the presence of solid frontrunners in most key categories, this year is giving me more trouble than most. For a race that, only a couple of weeks ago, seemed smothered in blanket affection for a single film, other possibilities have opened up that unusually equalize the possibilities of both a titanic sweep and a widely splintered share-a-thon.
Every Oscar ceremony contains its share of 50-50 calls, but I'm struck this year by the number of categories that haven't even narrowed themselves to that point: five races, in particular, have me scratching my head over at least three plausible winners. I imagine many of you are struggling with the same ones, so on the principle that many heads are better than one (or at least better than mine), allow me to lay them out in brief.
Best Documentary Feature
No category this year has made me switch my prediction as frequently and as unconfidently as this one — an unusually high-quality slate from which I can see any one of the five nominees emerging victorious, even apparent outsiders "Gasland" (which could benefit from being the most instructive and guilt-preying of the nominees) and "Restrepo" (the most visceral nominee, and the one likeliest to elicit admiring "how did they do that" reactions).
My prediction, however, has wavered between the other three. Since seeing it at Cannes, I maintained that Charles Ferguson's sobering (yet entertaining) financial crisis doc "Inside Job" was the one to beat, though it didn't become quite the crossover hit I expected. When "Exit Through the Gift Shop" surprised me by scoring a nomination, I came round to the idea that its off-the-wall spirit and high media profile would come through if votes split between the four "serious" films in the race, but more conservative voters could well find it too flip. I reverted to "Inside Job" for a while, but in the last few days, I've found myself wondering about "Waste Land." Lucy Walker's art-as-humanitarianism study is, for me, the least accomplished film of the five, but it's also the sunniest and most feelgood — without skimping on nutritious social themes. I'm beginning to think voters might find it offers them the best of both worlds.
Best Supporting Actress
Another category where I can make a case for any nominee winning — yes, even rank outsider Jacki Weaver whose electric turn in a little-seen film could maintain a small but loyal band of support while the less committed flip-flop between her four higher-profile competitors. (Many a pundit had Marcia Gay Harden in fifth place back in 2000. Just sayin'.) A "King's Speech" coattail victory for the well-liked, hard-working Helena Bonham Carter makes perfect sense on paper — but Oscar wins aren't made on paper, and when I consider the peripheral function of her thin performance in the Best Picture frontrunner, I can't help but wonder if voters will think she's done enough.
Particularly when her competitors include Melissa Leo, whose impressive precursor run (SAG, BFCA, Golden Globe and a clutch of critics' awards) makes her the de facto frontrunner, even if many pundits seem desperate for reasons to prove otherwise. Critics and industry voters alike don't seem bothered by accusations of overacting, the continued "she'll split the vote with her co-star" theory hasn't been borne out by any major precursor and the fuss over her self-bought campaign ads exists is infinitely louder in the blogosphere than in the real world. And yet I wonder if the frontrunning status of her co-star Christian Bale is a boost or a hindrance to her chances. Might some voters, having checked off his name, feel inclined to reward another film in the next category? And if so, might young, screentime-advantaged Hailee Steinfeld — about whom any bad word might well be forbidden by law — be the one to benefit?
Best Original Song
If some categories are tough to call because they're so stacked with worthy contenders, this one is competitive for the opposite reason — in a field where none of the nominees inspire particularly strong swells of feeling, the race can be decided on any number of arbitrary considerations. Those voters who don't abstain entirely from voting here (I'd wager there are more than you think) could well indulge any one of following thoughts:
"Well, 'Country Song' sucked, but it's a kick to hear Gwyneth Paltrow singing. Where's she been? I like her."
"There was a song in '127 Hours?' Well, I haven't voted for that movie anywhere else. I liked it."
"Does Randy Newman have an Oscar already? I can't remember. Anyway, I like him. And that movie made me cry."
"Disney movies always have good songs, right? I don't remember this one, but I'm sure it's good. I like Disney."
You see the problem here?
Best Art Direction and Best Costume Design
I list them together, because it's the tandem nature of the awards that has me concerned. The last decade has seen an interesting flip: five consecutive years of Best Art Direction and Costume Design going to the same film (from "Moulin Rouge" to "Memoirs of a Geisha") has been followed by four years of  the awards going separate ways — the on only one of those occasions were both the awarded films nominated in both categories.
It's a reasonable deduction, then, that one of the two most effortfully decorated films in the race, "The King's Speech" and "Alice in Wonderland," will take both trophies. The former, if the sweep mentality really kicks into gear (the film may not feature the most ornate design work, but who in the Academy voted for "Chicago"'s art direction with a straight face?). The latter, if that old "Best equals Most" chestnut comes into play yet again (and voters are unperturbed that Tim Burton's murkily hideous film looks like a gaffer urinated across the camera lens). Of course, if "Inception" takes Best Art Direction, as good taste and clearly widespread Guild appreciation for the film suggests it might, then Costume Design becomes a toss-up once more.
Help me, readers. Which way do you feel the wind blowing? And which categories are chewing away at your all-too-frayed minds?
[Photo: Paramount Pictures]