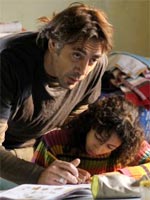 How do you solve a problem like Best Foreign Language Film? I'm not sure you can, but in the Academy's case, it's certainly not for lack of trying.
The voting process in this eternally dissatisfying ghetto category is now such a Frankenstein's monster of stages, rules, committees, sub-committees, longlists, shortlists and more committees that it's a wonder they manage to wind up picking a single film at the end of it all — and rather less of a wonder that said film usually carries the stale whiff of a compromise choice.
This year's race, thoroughly mapped out by Kris in this week's Oscar Guide, looks headed for a typically imperfect outcome — opinions on the five films that make up the category may vary, but few would argue that the overall slate represents the key stories of world cinema in 2010. The trouble set in early, with several of the year's biggest crossover critical hits ruled out at the submissions stage.
At the outset, the Academy places its trust in the individual countries' selection boards — which rather backfires when a credible contender like "I Am Love," far more more beloved Stateside than in its home country, gets the shaft from the Italians, in favor of aggressively mediocre pap like "The First Beautiful Thing," which didn't even crack the Academy's shortlist. (Others have brought up BAFTA champ "The Girl With the Dragon Tattoo" in this regard, though few seem aware that the hit thriller's window of eligibility was actually last year, when the Swedes took the artistic high road and submitted Ruben Östlund's superb multi-narrative piece "Involuntary" instead. Watch the latter film before you take issue with the blockbuster's exclusion.)
But even if some of the race's most controversial omissions are out of the Academy's hands, we've seen them shoot themselves in the foot enough times with their own voting for an intervention to be deemed necessary. And so, in the wake of the outrage that followed critics' darling "4 Months, 3 Weeks and 2 Days" missing the pre-nomination shortlist, the face-saving "executive committee" was born — a group of handpicked voters charged with protecting notable films cast aside by the more conservative general membership.
If the system is unavoidably inorganic, it at least enabled a highly credible slate of nominees last year, one that mixed major arthouse talking points with challenging fringe contenders, plus a slick populist genre piece that, disappointingly if inevitably, took the gold. But if the process has worked a little less smoothly this year, it may be because the executive committee has done its job too well. By slyly forcing Greece's thornily brilliant black comedy "Dogtooth" (reviewed here) into the lineup, they have gifted this year's Oscar class with one of its most exciting and essential nominees, but in doing so, they've rather shown up the very category they were attempting to save.
After finally catching up with all five nominees — the first time I've managed that feat before the ceremony in 20 years of Oscar-watching — I find myself both grateful for the redeeming presence of Yorgos Lanthimos's critically championed outsider and concerned by its sore-thumb appearance in a lineup otherwise dominated by the drabbest and dourest of what world cinema has to offer.
If a mention for "Dogtooth" is intended as a peace offering to critics, as well as a flashlight for audiences who don't habitually haunt the darker corners of the arthouse, consider the job done. (I was intrigued to see that it won our own readers' poll for the category's most deserving contender.) But when it's also the only one of the five that doesn't stand a snowball's chance of victory, the symbolic nomination is in danger of reading less defiant than patronizing — to film and voters alike.
In this regard, I share some of the qualms expressed (in fairly heated fashion) by Kris and Anne in last week's Oscar Talk podcast, though where their stand was that "Dogtooth" doesn't deserve the nomination — what I find subtly tangy and surreptitiously moving in the film, they decried as shock-mongering tactics — mine is that its fellow nominees don't deserve it enough in comparison. Either way, the disconnect between this nominee and the others, both aesthetically and in terms of the path it took to the Kodak Theater, doesn't make for the most harmonious race.
Even by the category's wafty standards, this year's lineup strikes me as a feeble one: of the four films seriously in the hunt, only the least likely victor, Rachid Bouchareb's "Outside the Law" (reviewed here) would please me as a winner. Even then, while a richly produced, densely plotted chunk of old-fashioned historical fiction, it's a wisp of a creative achievement stood next to the Greek nominee — not to mention less engaging than the director's last two features, one of them nominated in 2006's far deeper foreign-language field.
The three frontrunners are ripe melodramas that range from rickety (Alejandro González Iñárritu's "Biutiful") to rank (Denis Villeneuve's "Incendies"), with my predicted winner, Susanne Bier's "In a Better World," hovering somewhere in between. (Bier's film hits US screens in April, with its UK premiere in March at the Birds Eye View Film Festival.) Nothing would dismay me more on Sunday night than seeing "Incendies" walk off with the statuette: an ostentatiously glum yet emotionally inconsequential slab of smug political exploitation lacking coherent characters to sustain its self-admiring narrative twists, it takes my wooden spoon prize for the worst film nominated in a major category this year.
That said, it's a film to which others have experienced oppositely strong emotional reactions, fuelling potentially productive debate if it wins. Whether that makes it a more or less compelling contender than "In a Better World" — a slick, absorbing but terminally obvious daisy-chain of allegorical fables in which Violence Begets Violence in scenarios of escalating silliness — depends on whether you think the Academy's more important duty is to honor filmmaking proficiency or to anticipate works that might eventually be woven into the larger cultural fabric.
On either front, then, I'd have to admit that "Biutiful" — a film I expressed sizeable reservations about at Cannes, and from which I drew even further back on a return visit — knocks both "Incendies" and "In a Better World" into a cocked hat. (Meanwhile, as pleased as I was that I correctly predicted the "surprise" shortlist snub for France's dull, instructively earnest religious drama "Of Gods and Men," I'd probably be saying the same thing about it had it received the nomination everyone else was counting on.)
As a feat of filmmaking, Iñárritu's return to Spanish-language cinema is more sensuous and immaculately crafted than either of its bland chief competitors, and if I found its narrative shopping-list of afflictions effortfully miserable to the point of absurdity, well, this lineup finds it looking in a mirror in that regard. At the very least, it's anchored by a big-ticket performance that almost everyone can agree upon as a virtue — and until the Academy stumbles upon a voting process that doesn't require both a stroke of hometown luck and a nanny committee for the year's most valuable foreign-language titles to gets their (hopeless) due, that's not the worst reason for a film to win.
[Photo: Roadside Attractions]