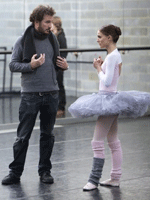 Coming down to the wire, the race for Best Directing remains a very close one. Earlier in the year the prevailing wisdom was that a split could be in the cards, with the Oscar-bait frontrunner more likely to win Best Picture and the zeitgeisty competition likely to see its talented helmer finally noticed.
Then things changed a bit, with the zeitgeisty choice pulling ahead as a Best Picture possibility, which left supporters feeling even more strongly that its director would find himself in the winner's circle. At the end of the season, we're back to that original thought process in some quarters, while in others, the anticipation of Oscar bait going hand-in-hand is taking hold.
The nominees are:
"Black Swan" (Darren Aronofsky)
"The Fighter" (David O. Russell)
"The King's Speech" (Tom Hooper)
"The Social Network" (David Fincher)
"True Grit" (Ethan Coen, Joel Coen)
The absence of Christopher Nolan was no doubt the shock of nomination morning, leaving little doubt that "Inception" would not have been one of five Best Picture nominees. Maybe these would be our five, maybe not, but regardless, it's a two-horse race in this field, no doubt about it.
Unfortunately, it's entirely likely that the most deserving candidate is bringing up the rear. Darren Aronofsky's vision for "Black Swan," derided as camp by some, hailed as masterful by others, is one of his crowning achievements to date. The intricacy of its psychological exploration can be felt in every nook and cranny of the production, from a genre-bending screenplay to crisp and detailed editing to elaborate sound design. When all of a film's elements line up toward a singular vision like this, the credit can certainly be placed at the feet of the director. Aronofsky represents a youthful new breed of filmmaker, and he's cut from — forgive me if you disagree — the same cloth as Martin Scorsese. He will one day get his due recognition, but I fear he'll have to prove his longevity first.
There is a lot of love within the Academy for "The Fighter," and I know for a fact there will be plenty of votes going David O. Russell's way. They will ultimately serve to merely pull votes from the frontrunners, but nevertheless, Russell's is one of the great stories of the season. Paramount Pictures found a nice flow with its campaigning, mentioning in advertising for his work "the comeback story of the year," a clever double-meaning given the film's narrative and Russell's own checkered past with the industry. And his praise has been valid, because while the film isn't his best (that would still be "Three Kings"), it is a familiar story handled in a vibrant and unique way. He also pulled a hell of an ensemble performance out of his cast, which is no simple feat, but he shouldn't get his hopes up. Welcome back, David.
If you're predicting "The King's Speech" to triumph in the Best Picture category, then you should not feel nervous at all about predicting Tom Hooper here. The simple fact is that splits tend to occur in close years (1998, 2000, 2002), and this year doesn't appear to be a close one, by most accounts. His direction has ironically been criticized as everything from anonymous to overt in this loud season. Admittedly, it's the least impressive of the nominees in the field, but it is still a fine piece of work and this is a valid bit of recognition. My sense is that the Oscar is his, as voters will simply chalk their favorite film up in this category, as I think they will a few others.  But again, it's a tight race. Things could easily go in another direction by the end of the evening.
That other direction, as alluded to at the top, would be David Fincher for wonderful work on "The Social Network" that has unfortunately been put up on a pedestal of hyperbole all season long. Good on him for keeping busy rather than getting too sucked into the awards process, but then again, glad-handing is what it takes to win Oscars. I prefer a Fincher who isn't good at "the game" rather than a Fincher cravenly chasing recognition, though, and he is very much the former. As for the actual work, it's a near-perfect assemblage, helped along by an incredibly tight screenplay, of course.  He gave the film an identity and flavor with his various choices and he got a bevy of delightful performances from his cast. But a split scenario is difficult to forecast, so be brave if you wish.
Finally, there is the surprise nominee of the lot (though surprising just by a hair). Joel and Ethan Coen brought the western genre back to vibrant life with their re-adaptation of "True Grit," and hell, they should win an award for that feat alone. Clearly the film was an Academy favorite, sucking up 10 nominations across the board. And while many of the brothers' tendencies can be found throughout, it's also an interesting stylistic departure in some ways. It would be a delightful surprise but likely they're just catching their Academy stride as of late and look to be perennial fixtures on the slate after winning the gold three years ago. Still, who wouldn't want to sing their praises for this accomplishment? They kept a vital piece of Americana alive. It can't be overstated.
Will win: "The King's Speech" (Tom Hooper)
Could win: "The Social Network" (David Fincher)
Should win: "Black Swan" (Darren Aronofsky)
Should have been here: "Another Year" (Mike Leigh)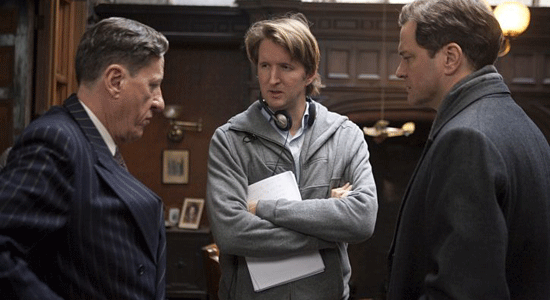 Check out my current rankings for this race at its dedicated Contenders page here.
What do you think deserves to win the award for Best Directing? Have your say in today's sidebar poll!
[Photos: Fox Searchlight Pictures, The Weinstein Company]