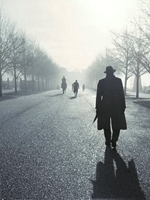 While Guy is pulling his hair out (I know the feeling), I'm backing off.  At some point you have to put your pencil down and step away, and so I am.
For me, the most difficult categories to pick — and the ones I found myself flip-flopping on down the stretch — were Best Supporting Actress and Best Documentary (Feature).  Interestingly, both proved nerve-racking for completely different reasons.
In the case of supporting actress, you have a race that felt fluid (easily a three-way sprint) coming into phase two, and a situation later complicated by an advertising hiccup from the frontrunner and the charm factor going way up for a contender in the expected Best Picture winner.  In the case of documentary feature, you have five stellar films that are — no kidding — evenly favored among the committee voters.
Other fields are tough, even if they seem to have two viable options.  Best Costume Design, for instance.  Or Best Original Song.  And don't get me started on Best Foreign Language Film, which has seemingly boiled down to a tight two-way race.
I'm banking on seven Oscars for "The King's Speech," which puts it in league with "Shakespeare in Love" and "Dances With Wolves," two that have served as comparison pieces for the film in the awards show frame.  A distant second is "Inception" with three wins, by my estimation, and then fellow Best Picture nominees "The Fighter," "The Social Network" and "Toy Story 3" taking home two apiece.
That's my vision of the evening.  Others have different expectations, largely because instant revisionism has left the frontrunner perceived in the media as a lesser winner in Oscar's history books.  You'll hear four wins in a number of quarters (Best Picture, Best Actor, Best Original Screenplay and a single tech honor).  That would compute for me if it were a more modest modern narrative like recent Best Picture winners "No Country for Old Men," "The Departed" and "Million Dollar Baby," but it's a period piece that gives the Academy a chance to feel okay chalking up their favorite film in multiple areas.
Others say six, which I wouldn't argue against strongly.  But expect at least five, because no Best Picture winner nominated for 12 Oscars has ever won less.
Or maybe I'm just wrong.  Entirely possible.
In any case, you can find my final predictions here (and they are noted in the sidebar).  Each category is linked to its specific Oscar Guide page.  It's worth mentioning that only four categories — Best Supporting Actress, Best Documentary (Feature), Best Documentary (Short Subject) and Best Short Film (Live Action) — have been updated since we started the Oscar Guide, so if you don't want to dig back into everything, you can just check out those revisions.  And we have one final entry in the series left, Best Picture, which will go up tomorrow.
If I change anything, I'll let you know.  But I'm going to try not to.  You can only think about this stuff so long before the epiphanies begin to dry up.  Meanwhile, you can check out Gerard's (finalized) predictions here, and Guy's (almost finalized) predictions here.  They are, as always, linked at the bottom of the right sidebar.
And now, we wait.  The Independent Spirit Awards are tomorrow night, which should be a nice appetizer to the big show.  And then it's Sunday.  And then it's the Oscars.  And then…finally…it's over.
[Photo: The Weinstein Company]