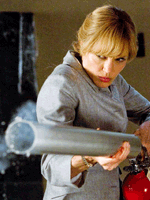 I stopped researching somewhere in the 1970s, but as far as I can tell going back that far, the Best Sound Mixing (formerly Best Sound) category has never included more than three Best Picture nominees. In a number of cases there were two, a great many years saw one and often enough, there were none.
So there's a theory worth addressing. But before I get to that, first and foremost, the safe money in the category is on "Inception." However, there should be a bit of pause because the film did not resonate with the Academy enough to land two key nominations (Best Director and Best Film Editing) and it flew over many heads. But it's the loud blockbuster of the bunch and ought to be considered the frontrunner.
That having been said, when you think of the reality of the Oscars, the winner ballots are largely filled out in blocks of support, sometimes even mandated from on high (no joke). So there are six Best Picture nominees that aren't represented in the Best Sound Mixing category, and the last thing in-house supporters of those films will want to do is check off a box for a competitor and add to another film's momentum. The only vote that wouldn't put wind in anybody else's sails? "Salt."
If all five nominees were also chalked up in the Best Picture category, the theory wouldn't play. Nor would it play if another film were in the mix that didn't net a Best Picture nomination.  That's a lot of potential support being thrown behind it in this category.  It's an interesting, if highly detailed, point of consideration.
Additionally, you all remember how I told you screeners of "Salt" were sent directly to the sound branch in the weeks leading up to the nomination, right?  Well in the wake of that "surprise" nod, Sony sent Blu-rays of the film to the rest of the entire membership, with the sound mixing nominees spotlighted one more time. It's the only film that showed up the week ballots went out, as everyone had already received screeners of the other films weeks prior.
Just some food for thought.  Both Gerard and I think it deserves it, and plenty in the branch do, too.  In fact, I think if it were just the mixers voting, it's entirely possible "Salt" would win.  Yes, "True Grit" won the CAS award, but most had not seen "Salt" before they nominated.
Again, the safe money is on "Inception" (or perhaps "True Grit" as a fair alternative).  But this would make for an eyebrow-raising stunner this weekend, no?
[Photo: Columbia Pictures]