Early in the season the lead actress category appeared to be more competitive than ever. An easy list of 10 contenders could be drawn up, many of them admittedly sight unseen, and it was anyone's guess as to which lady could insinuate herself as the odds-on favorite to win.
Then the critics began narrowing things down, while certain films began to underwhelm and fall to the wayside. With them went a few of those potential contenders. The critics also began to mold a frontrunner, one who would eventually prove to have the vote of the industry before having that status challenged in the final lap. Indeed, it's been a wild ride for Best Actress.
The nominees are:
Annette Bening, "The Kids Are All Right"
Nicole Kidman, "Rabbit Hole"
Jennifer Lawrence, "Winter's Bone"
Natalie Portman, "Black Swan"
Michelle Williams, "Blue Valentine"
As usual, this year the race has boiled down to a young ingenue versus a respected veteran. It's all made for quite the drama in a phase two that many hoped would be exciting, but was it much ado about nothing?
Or did Annette Bening, in fact, hit her stride at just the right moment? Her performance in "The Kids Are All Right" is arguably the weaker of the two leads (her co-star going without Oscar recognition) and some have even claimed it is better suited to supporting consideration. But she was never going to be anywhere but among these nominees by year's end. The question was always, "Is this the year?" After a handful of losses to Hilary Swank (who herself almost showed up on the slate this year), Bening seemed poised. But her thunder was soon stolen. Still, she has worked it in phase two, doing national television, receiving a Santa Barbara Film Festival tribute at a key time and warming the room at the Academy's Nominees Luncheon. Part of me really thinks she could have turned the corner, but the other says it was too little too late.
In the "just happy to be here" department is Nicole Kidman, the lone representative of a film for which she is largely responsible, John Cameron Mitchell's "Rabbit Hole." It's a nice bit of recognition after the hard work she put into the project, both in front of and behind the camera. As for the actual performance, it is most certainly one of her best, a raw, authentic, at times quite gut-wrenching piece of work that reminds (if you needed reminding) that she's still a formidable talent. Nevertheless, she has her Oscar already and she's quite low on the 2010 totem pole as it is, so she would do well to just settle in with hubby Keith and get comfortable at the Kodak Theatre on Oscar night. This one will be a fight between other parties.
For a time it appeared one of those parties might be one of the youngest of the year's acting nominees. At just 19 years old (she's 20 now), Jennifer Lawrence gave a stirring and lived-in performance in Debra Granik's backwoods drama "Winter's Bone." For this viewer, it's the best reason to watch, but the film struck a chord with the Academy regardless and landed a Best Picture nomination (putting Lawrence in the company of only two other lead actress nominees in that regard). However, she's no longer in the spotlight of this competition. That's a small price to pay for starting off what is sure to be a lasting career in the best possible way. Next year comes her first summer blockbuster and after that, surely a few potential Oscar brawls with Meryl Streep. You know, the life of a talented Hollywood actress.
The frontrunner has been as much for months now, and that's Natalie Portman in Darren Aronofsky's "Black Swan." Here's a bolt of lightning from clear blue sky, a performance of emotional and physical intensity from an actress we've watched grow up on the silver screen for over 15 years now. Add to that a baby bump that gets a little bigger every time she takes another awards show stage and you have a story built for Oscar. She may have gotten a bit snippy at press recently regarding the usual mundane questions, but who can blame her? It's possible she gets edged out by the Hollywood royalty card, but in all likelihood, voters see this as the best and most sensible place to honor the film (which is also a Best Picture nominee) on their ballot.
Bringing up the rear, but certainly not for lack of trying, is the wonderful Michelle Williams. The only Oscar crime associated with her nomination this year is that she wasn't accompanied by "Blue Valentine" co-star Ryan Gosling. Nevertheless, it was a happy quasi-surprise when her name was called out on nomination morning. There were a couple of possibilities for that last spot, which seemed up for grabs for weeks. In the film, she creates and digs to the center of a vibrant, real and multi-dimensional character, a woman cornered with all the passions and intricacies associated with her situation. It really was a sight to behold, and good on the Academy for recognizing it, but she'll have to wait a few more years before she gets her own statuette. It'll happen one day.
Will win: Natalie Portman, "Black Swan"
Could win: Annette Bening, "The Kids Are All Right"
Should win: Natalie Portman, "Black Swan"
Should have been here: Julianne Moore, "The Kids Are All Right"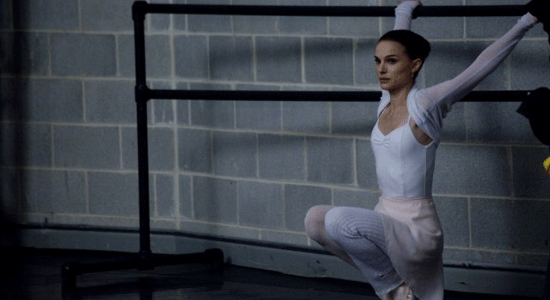 Check out my current rankings for this race at its dedicated Contenders page here.
Who do you think deserves to win the award for Best Actress? Have your say in today's sidebar poll!
[Photos: The Weinstein Company, Fox Searchlight Pictures]