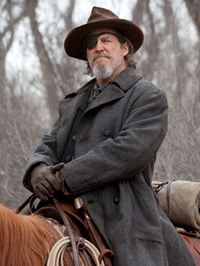 Last year was the best opportunity to do the career retrospective thing with Jeff Bridges, right at the starting gun of an Oscar-winning steamroll through the film awards season. This time around, the actor is nominated for his sixth Academy Award, for his work in the Coen brothers' "True Grit," and it seemed a conversation about westerns might be novel.
So a little over a year after that hefty interview and roughly 10 months after he paid homage to his parents on the stage of the Kodak Theatre, we got together at the same restaurant to talk up the genre that sparks some of his earliest memories of the film business.
"I was always thrilled when my dad would be doing a western," he says, "because I knew he'd be coming through that door after work, all dressed up like a cowboy. And I'd get to put all his stuff on and I'd be smelling the horses on his clothes, all of that stuff."
Indeed, the actor remembers going to set and cracking up at the sight of actors sitting atop ladders and acting as if they were on horses for the camera, the veil of filmmaking totally lifted. But he also recalls an instance when his older brother and fellow actor, Beau, disrupted a take during the filming of "High Noon," which starred their father, Lloyd Bridges.
"Beau was in the hay loft when my father and Gary Cooper were doing that big fight under the horses," he says. "It was one big long take and when Gary Cooper threw that bucket of water on my dad at the end of the fight, Beau burst out laughing and ruined the take and they had to do it all over again, which was kind of a big thing at the time!"
Like any kid growing up in the 1950s and 1960s, Bridges played cowboys and indians with his friends. A personal favorite film was "The Magnificent Seven" (he hums the unmistakable Elmer Bernstein theme mid-story). Each of his friends would get to be a different character, whether it was Yul Brynner, Steve McQueen, Robert Vaughn, what have you.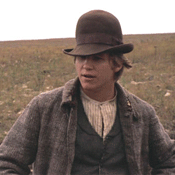 "Just something about those times were great," he says. "It was a lot of pretend. Acting was a sort of graduate school of pretending when you were a kid. It was an extension of that."
Other favorites included "The Tall Texan" and "Little Big Horn," both starring his father, but it wasn't long into his career that he got to star in a western himself. The film was 1972's acid western "Bad Company."
"Now you've got all the great costumes and sets and props," he says of the experience. "The whole deal when you were pretending as a kid was to make it feel as real as possible. So doing 'Bad Company' and getting to have all that great gear and authenticity felt wonderful. It was Bob Benton's first film. He also wrote it. It was shot by Gordie Willis and Mike Chapman was the operator. Great cast."
Part of that cast, interestingly enough, was the big Lebowski himself, David Huddleston.
Next up was "Heaven's Gate," the infamous United Artists epic of 1980 that, nevertheless, appears to be one of Bridges's favorite experiences. Directed by Michael Cimino, riding high after "The Deer Hunter," the film is a gorgeous "anti-western," some would say, that was completely immersive, if ultimately fiscally disastrous. But that never sullied Bridges's memories of it.
"Talk about bringing you back into the times, man," he told me in 2009. "People give Cimino and that movie such a bad rap, but it kind of grows on you. It's kind of methodical. We had some wonderful times on that one. If you weren't working that day, you couldn't leave. You would go to 'Camp Cimino.' Everybody would have different tasks that they were practicing in the movie, cock fighting, riding, speaking Yugoslavian. It kind of brought us all really close. We felt like we had all been through something after that."
Some years later, Bridges saddled up to the genre once more, in 1995's "Wild Bill." Directed by Walter Hill, the film tells the story of James Butler "Wild Bill" Hickok, a role ironically played by Bridges's friend, Keith Carradine, in the first season of HBO's "Deadwood" (also directed by Hill).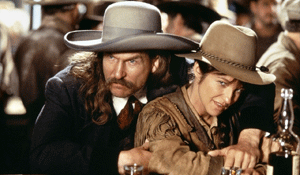 "I remember we were living in a rented house, because that was shortly after the earthquake," Bridges recalls of when he took the job. "It was a chance to play arguably the most famous western character. What a badass guy. You know, a union spy during the war. He was kind of a Rooster [Cogburn]-type guy. And Walter Hill, he's a great director of westerns. He's almost like a guy from another time, just his sensibilities."
With a laugh he adds, "Keith plays Buffalo Bill in mine."
And it's not just proper westerns but also the flavor of the genre that has been consistent in Bridges's career, whether it be the dime store novelist he played in the 1975 comedy "Hearts of the West" (a film he doesn't get to discuss often but clearly enjoyed), the modern-day cattle rustler of "Rancho Deluxe" (he met his wife, Susan, during the production), a 30-years-later take on Duane Jackson as an oil tycoon in "Texasville" (he says he'd like to finish out the series of Larry McMurtry adaptations) or even Bad Blake himself, the traveling country-singer with a guitar (maybe abstractly cut from the same cloth as Gene Autry) in "Crazy Heart."
And now, "True Grit." The film is a bit of a full-circle experience for the actor, not just because of his long history with the genre, but because Jeff Corey, the actor who played the villainous Tom Chaney in Henry Hathaway's original film, was Bridges's acting teacher once upon a time.
Bridges got word that the Coens wanted to cast him in their re-adaptation while he was filming "TRON Legacy," which, he admits, was somewhat annoying.
"Making a movie, I kind of get my blinders on and don't want to be distracted," he says. "I certainly don't want to read any scripts or decide what my next movie is, and that's exactly what I was called upon to do."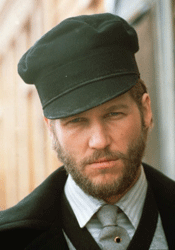 He thought it was an odd project, for the Coens, yes, but just in general, too. However, the brothers assured him they had no interest in referencing the original film. They were interested in going back to the source material, so they gave him Charles Portis's book and asked him to read it. It seemed less grating than diving into a script, so he agreed, and immediately he knew what they were talking about.
"It read like a Coen brothers script," he says. "And then they gave me that general direction about not referencing the original. It meant that I didn't have to do that, either. I didn't have to be concerned about matching John Wayne's performance. So then I got on board."
It was also a chance to jump into the duster and spurs one more time, and in an iconic role, to say the least. But it all boiled down — as it often does, for Bridges — to the opportunity to lose himself in a manifested world, to immerse himself into it…to pretend.
"One of the things with creating a world, the illusion is more complete for the audience when all of the people are in the same world," he says. "A lot of that comes from the language of the script and being conscious of the genre, not that you have to play it, but being aware of it. And one of the things I was aware of with my character, Rooster, is that he's not typical. Characters like that, they're usually Clint-like, you know, strong, silent types. This guy was not that. Very verbose, talk your ear off, kind of a boor. But it's amazing what's happened to that thing. It's really taken off."
Indeed, two months after release, the film is chasing the highest-grossing western to date, 1990's "Dances with Wolves," at the box office. But even though it'll likely tap out just under that mark of $184 million, it's a big victory for a genre struggling to maintain a foothold with audiences.
Leave it to The Dude, and his history with hooves and dust, to bring it all back for one last ride.  Or, more optimistically, perhaps it's the first ride of a rebirth.
[Photos: Paramount Pictures, United Artists]