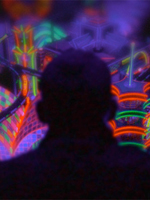 In case you missed part one of this year's top shots column, be sure to catch up before digging into the final five selections today.
As I mentioned yesterday, it wasn't exactly a banner year for singular images from films in 2010. And that's certainly not a crime. But more to the point, what I learned as I set about writing this piece was how deeply my personal experience of the year was reflected in my ultimate selections. It may have been tough to find what felt right for the list, but in some ways, the intensity of that digging ultimately illuminated the year's work for me all the more.
How can I not be grateful for that? In the final analysis, perhaps a year that isn't so obvious, without such a bevy of possibilities for this collective, yields a more measured and perhaps passionate consideration of the year in visual storytelling. Not to be highfalutin.  Anyway, I hope you enjoy the conclusion. Let's dive in…
#5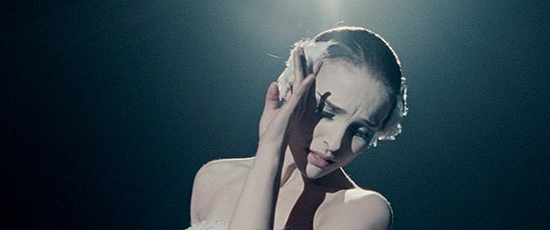 "BLACK SWAN"
Director of Photography: Matthew Libatique
We ended up waiting to do that scene because we were going back and forth on what kind of presentation it was going to be. We talked about doing it on stage or some kind of abstract set, but I opted for spotlights and the black void. Simpler was better, though the camera rotated probably eight times, possibly more. Karma, I think, helped it out because we shot it in the same space they shot the death scene in 'All That Jazz,' which is one of my favorite films.

–Matthew Libatique
Darren Aronofsky's "Black Swan," like all of his works, is, in so many words, a masterfully shot film. He teamed up with lenser Matthew Libatique again after a one-film departure and the work behind the camera is some of the most potent of the year. And choosing one shot was tough.
There are plenty of compositions that are thematically relevant but fail to, I think, capture the essence of what makes the photography so special. I ultimately decided that the third shot of the film, which begins on Von Rothbart during a heightened, trance-like "Swan Lake" number and follows to capture his ballet duet with Natalie Portman's Nina Sayers (and, to be clear, does include one "hidden" cut) establishes the language of the "oppressive" camera, as Libatique puts it, and that feather-like grace it maintains throughout.
Moreover, and granted, it comes early, but I think it is also the moment when it really registers for the audience that this will be a unique cinematic experience, if nothing else. And was it ever.
#4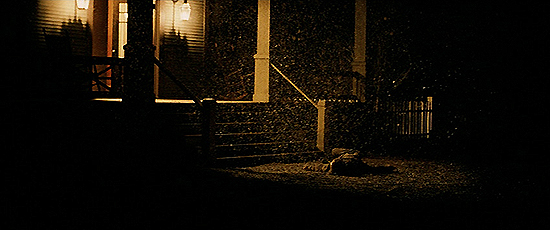 "TRUE GRIT"
Director of Photograph: Roger Deakins
We storyboarded a few shots, tracking and looking down the street at dawn, which we actually did. But in the middle of the night, when we couldn't do much else and were waiting to set up the dawn shot, we decided to do this side track-in. It's kind of lovely the way the horse just whips through frame and then is gone and the snow sort of shifts around him. And that's the one they used, I think because it's so pure and simple. That was the whole thing about the film, really. It's not fussy.

–Roger Deakins
No list such as this would be complete without serious consideration of a true modern master of the form, Roger Deakins. He just missed last year, but this year his work in the Coen brothers' "True Grit" yielded one particular image that stood out from the get-go. Indeed, it's the film's first image (and much has been written of it since I spoke with him about it in December).
In so many ways it tells a story, with style and narrative power, helped by the exposition of narration, sure, but the simplicity (as noted in the quote above) is what makes it such a perfect composition. And in a film that, for me, lacked embossed visual power (mostly by design), I relished this particular frame.
And now Deakins is set to leave film behind, likely forever. He's really turned on by what he's up to on Andrew Niccol's "Now" and he's very happy with the kinds of tools at his disposal both there and in animation. If indeed he's leaving celluloid behind, it's been a hell of a ride. And I'm sure he'll continue to dazzle on digital.
#3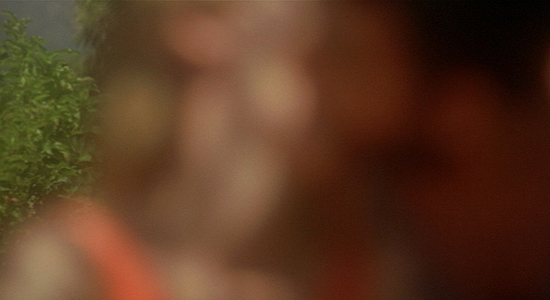 "I AM LOVE"
Director of Photography: Yorick Le Saux
We wanted the feel to be rich and majestic but not luxe. We didn't want something that would look like a commercial, with too much light, too much brilliance…Luca [Guadagnino] is probably the most technical director I've worked with. He knows everything about cameras and lenses. I think he can tell you every special speed that Christopher Doyle used on a Wong Kar-wai movie in the Nineties!

–Yorick Le Saux (from American Cinematographer Magazine)*
I wasn't particularly high on Luca Guadagnino's "I Am Love" this year, but I certainly appreciated it for its design and photography. It's actually a film full of vibrant images, but one stuck out above all the others.
After a day of obsessively stalking the object of her affection, Emma Recchi (played by Tilda Swinton) finally falls into the rabbit hole of forbidden love in a brief, clipped, stolen kiss filmed entirely out of focus. For some, it's an arbitrary decision. But for me, it's perhaps the most truthful visual depiction of the intoxication that comes with a moment like that, the guilt, the excitement and the passion swirling in the same glorious mixture.
Any number of the film's wonderful images, captured by D.P. Yorick Le Saux, could have been tapped for this collective. But this one, I thought, was the most meaningful of the bunch, the most emotionally and thematically authentic, and above all, the most surprising.
#2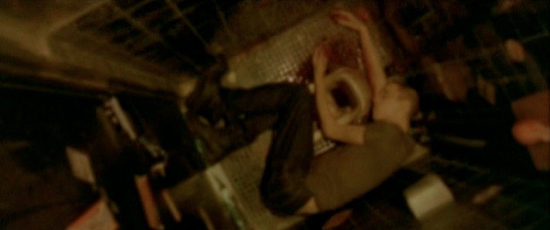 "ENTER THE VOID"
Director of Photography: Benoît Debie
One of Gaspar's great qualities is that he pushes you to experiment…If, for whatever reason, something doesn't work out as he hoped, he will never reproach you. He tells you, 'Let's try it, and if it's not good, tomorrow we'll do something else.' That allows you to take a lot of risks. He is searching, and he therefore pushes others to do the same.

–Benoît Debie, (from American Cinematographer Magazine)*
My pick for the year's best cinematography was Benoît Debie's work on Gaspar Noé's "Enter the Void," but narrowing a selection down for a piece such as this felt nearly impossible. The instinct is to say, "the whole film," because it is another example of Noé's penchant for flowing consistency with the camera, rather than intense editing.
However, the one shot that sticks out and really announces a unique visual vocabulary for the piece, unique even for Noé, comes during the first act break when the soul of lead character Oscar is sent on the journey the audience will observe for the next two hours. The camera floats up to a single naked light bulb, caught in the visual aroma of its illumination for a few hypnotic moments before turning back to the fallen Oscar, whatever force is behind it finally aware of its new place in the universe.
This kind of boundary-pushing, whether you love the film or hate it, is what is vital for the continued evolution of cinema. For some it might ring as gimmicky, but for me it is a true hallmark of expanding how we perceive this medium.
#1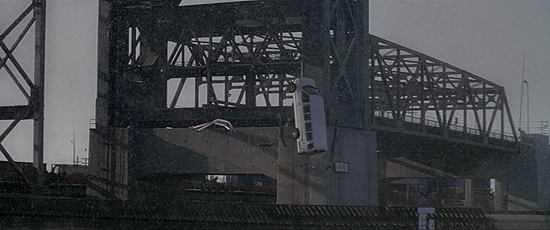 "INCEPTION"
Director of Photography: Wally Pfister
Obviously it's a very key storytelling thread. It acts as this ticking clock, an hourglass, and we knew the weight of the shot for our movie. Chris [Nolan] wanted to get the camera as slow as we possibly could, and it really is our general philosophy on everything we're doing on these films is to try and get it in camera. We went down to San Pedro and it seemed like a perfect place. It was just enough of a drop, they allowed us to do it and it sort of fit in with our shoot-up leading up to it.

–Wally Pfister
Sometimes a year-topping shot for me is all about identity, like last year's pick, which came to define as a visual reference point. Sometimes it's well-achieved complexity, like 2008's winner. Other times it's simple striking beauty and iconography, like 2007's winner.
This year, it was about implementation and, admittedly, a consideration partly owed to film editing. But the image from "Inception" of a van falling in slow-motion served, as Wally Pfister notes above, as a brilliant timing mechanism for a film entirely built upon its chronology, both narratively and, in some ways, thematically.
I admit to cheating somewhat, as it's not just the take above that director Christopher Nolan and editor Lee Smith continuously cut to throughout the film's third act, but a couple of angles. (The drop was executed twice and multiple cameras were staged all around for multiple options.) Nevertheless, no image meant as much when it flashed on the screen this year, and for that reason alone, it seemed the best choice for me as shot of the year.
That about wraps it up.  I hope the wait was worth it for you, and thanks for your patience. If you haven't yet, feel free to offer up your picks for the year's best shots in the comments section below.
*Yorick Le Saux and Benoît Debie were unavailable for original comment.
***
The Top 10 Shots of 2018
The Top 10 Shots of 2017
The Top 10 Shots of 2016
The Top 10 Shots of 2015
The Top 10 Shots of 2014
The Top 10 Shots of 2013
The Top 10 Shots of 2012
The Top 10 Shots of 2011
The Top 10 Shots of 2010
The Top 10 Shots of 2009
The Top 10 Shots of 2008
The Top 10 Shots of 2007