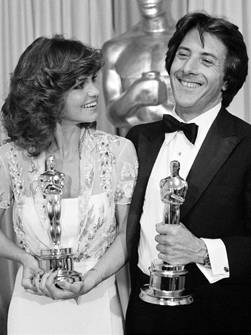 I mentioned yesterday that the multi-presenter format used for the acting awards in the last two Oscar ceremonies is being scrapped this year. However, while we're doing away with the five-way individual tributes, producer Bruce Cohen claimed they were adopting an idea from the "1970 Oscars" that would ensure every nominee gets duly celebrated.
Looking at footage from that year's awards, it wasn't clear what he meant — though it seems he might have been misquoted, and actually said "1970s Oscars."
With that in mind, helpful reader Michael Amir Bina got in touch to inform me that this presentation format (embedding disabled, I'm afraid), from the 1979 awards, is what we should be expecting. Nothing groundbreaking, just brief rundown of each nominee's career and achievements to date. Fine, I suppose, though it slightly steps on the notion of the Oscar being for a single performance. Meanwhile, how much telecast time will the show's writers be able to wring from poor Hailee Steinfeld's résumé?
[Photo: Libero.it]