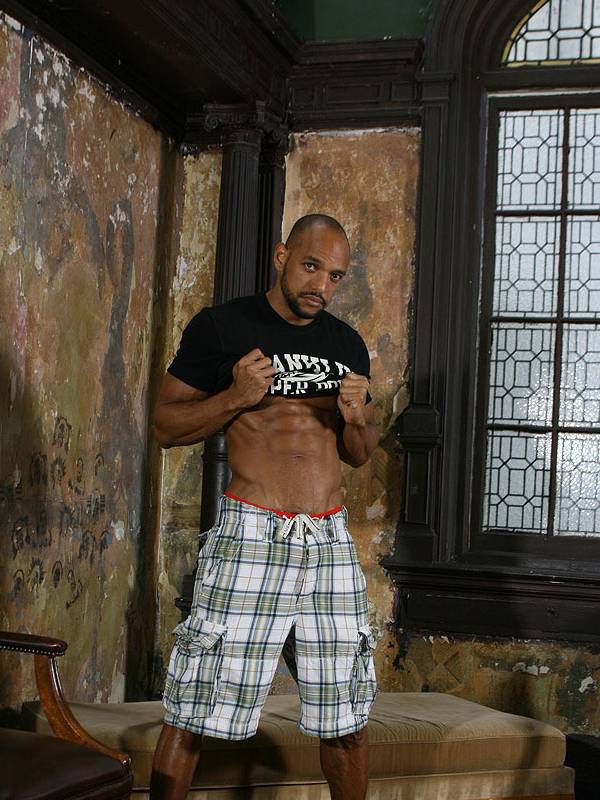 By now you'll have heard that the most celebrated set in "The King's Speech," that of Lionel Logue's shabbily spartan office, was also used in a video by British gay porn producers UK Naked Men — which I've since discovered is called "Snookered," and is readily available online. (Click at your own risk — decidedly NSFW/C.)
As Kris pointed out yesterday, the folks steering "The King's Speech" will be grateful this embarrassing news nugget wasn't unearthed a few weeks ago, as opposed on the last day of Oscar voting. Still, I imagine a number of Academy figures are now crossing fingers in the hope that the film doesn't emerge victorious in what appears to be a tight three-way race for Best Art Direction.
The news spread rapidly across the internet yesterday, leaving ripples of laughter in its wake — but aside from its amusement value, the situation does raise interesting questions about how people define award-worthiness in this particular craft field, and how aware they even are of what went into the work they're voting for.
Logue's office in the film, with its imposing leaded-pane windows and that striking feature wall of peeling, distressed wallpaper, was cited by many of you as a key factor when you cast your votes in our Oscar Guide for the Art Direction category two weeks ago. It is certainly the film's most vivid and effective interior. But while many are under the impression that the space is a set built for the film, it's not.
Rather, it's the back portion of the ground floor of 33 Portland Place, a historical house in central London (just a few blocks north of retail mecca Oxford Street) used frequently for swanky society events, industry parties and the occasional film shoot. "Snookered" isn't the only film to share its décor with "The King's Speech": I didn't see it, but UK critic Tim Robey informs me that "Spring," a gay-themed short film shown at the Berlinale last week also made use of the space.
Nothing to get up in arms about there. Needless to say, production designers use existing buildings all the time; it's how they re-dress and reconfigure them that counts. The question therefore lies in how much "The King's Speech" production designer Eve Stewart did to reinvent the space for the purposes of the film. And here's where we run into some conflicting information.
Given the similarity of the room's treatment and finishes in "The King's Speech" and "Snookered," many have assumed that the latter simply used the space after the posher film was done with it. This is not the case. I contacted UK Naked Men this morning and was informed that their film was shot in August 2008, comfortably preceding the "King's Speech" shoot. (UKNM employee James also kindly informed me that the space has been used for Amy Winehouse's "Rehab" video, and used to be rented out for swingers' parties. The more you know, eh?)
Furthermore, I contacted the management for 33 Portland Place, where the helpful Lizzy explained to me which spaces of the house were used for different sections of the film — having visited last October, I was already aware that grander floors of the same building doubled as the royals' residence. She also confirmed that the "King's Speech" crew used the set in the condition they found it, distressed wall and all. "The settee seen in Logue's office is ours too," she added. ("Settee" equals "sofa," American readers.)
So far, so good. But this clashes curiously with this extract from Nathaniel Rogers's recent interview with Eve Stewart, in which she claims the famous wall was her creation:
The director and I were looking around buildings and we saw a little bit of an incredibly distressed wall, which is what it was. There were layers and layers of decorations, hundreds of years in London from the 1700s and such. We loved it so much that I remembered it and we replicated it in there with lots of different treatments and old paint. It was layers of lacquers and wax and bits of paper. It was meant to represent all that time had come before but they're stuck in this garret creating something.

The wall — we kept going. There was so little light in there while we were working; there's no electricity in half of these old buildings. We were doing it in very dim lights and kept going and going and there was a point where I thought "Oh my god. what have I done??? (laughter) and then they turn the lights on and it was beautiful but I was a bit scared of being quite so daring.
Color me a little confused. When Stewart says "we replicated it in there," does "there" refer to a studio or the original site? And if the latter, how does this square with evidence of the pre-existing space? The 33 Portland Place website also features photos of the room in a recognizable condition, as well as other memorable interior locations from the film that look largely untouched.
There's nothing wrong with this from a production point of view, particularly given the film's indie status. Stewart, Tom Hooper and their scouts are to be commended on finding such a versatile and cost-effective location. But when it comes to the Oscar, how can voters wowed by the on-screen interiors be certain they're voting for the film's own craft and not just a lucky find? (It's interesting that the BAFTA for Best Production Design — on which only branch members, many of whom are probably familiar with the location, vote — went to "Inception," despite the "Speech" sweep.)
It wouldn't be the first time a production designer got credit from the Academy for pre-existing work: in 1997, Jan Roelfs received a nomination for "Gattaca," which, gorgeous as it is, was filmed in large part at the sleekly futuristic-looking Marin County Civic Center. In 2006, meanwhile, K.K. Barrett was BAFTA-nominated (perhaps tellingly, by the general membership, not just the art directors) for "Marie Antoinette," which was famously shot on location in Versailles. The Academy's art directors' branch, however, froze Barrett out.
The line is a fine one. It'll be interesting to see if Eve Stewart makes it to the Oscar podium on Sunday, and if so, if any further fallout awaits.
[Photo: UKNakedMen]