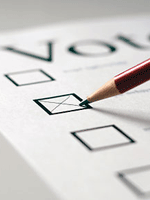 As of this moment, all voting polls are closed, all ballots are due, all campaigning is beside the point.  The 2010 Oscar season is over, with just the pesky formality of the actual Oscar ceremony to come.
So, any thoughts on what tides may have turned in the final moments?  There are more ballots that show up in the final week of voting than you'd think.
I think the potential beneficiaries would be Helena Bonham Carter (not Hailee Steinfeld) and Annette Bening.  Some think an overall retaliation to the guild dominance of "The King's Speech" could kick in, but I think that's highly doubtful.  It would be one thing if a film they just weren't high on won all those guilds.  It's another thing entirely when it's a safe pick.
I'll say this, though.  Here is a story (NSFW!) that I imagine some are happy didn't pop up earlier.