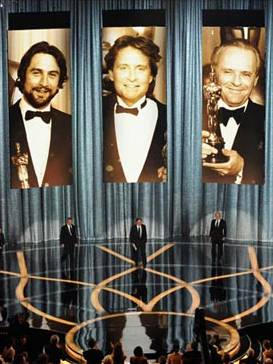 Forgive me if this news, from the Hollywood Reporter, is a couple of days old — I'm still catching up on Oscar-related nuggets I missed while I was in Berlin. But I was so pleased by these details relating to Sunday's telecast that I had to share them.
I'm on the record as saying I thought last year's show, produced by Adam Shankman and Bill Mechanic, was one of the sloppiest I'd seen in my lifetime of Oscar-watching, and I know a number of others were similarly dismayed. So as far as I'm concerned, the duo steering this year's ceremony, Bruce Cohen and Don Mischer, would benefit by doing things as differently from Team Shankman as possible — and indeed, that seems to be their MO this year.
Their first good move came with the reinstatement of the nominated song performances — disrespectfully binned last year to make room for such gems as breakdance routine to the "Hurt Locker" score — though Cohen admits to being "disappointed" the Academy's music branch didn't give them a Cher number to work with.
Then came another U-turn: after Shankman insisted on re-introducing the old "And the winner is…" catchphrase for award presentations (something several presenters refused to go along with), this year's producers have stated their preference for the more diplomatic "And the Oscar goes to…" line.
Cohen and Mischer most recently announced changes, however, will have more effect on streamlining the show: the themed movie montages that have hogged so many minutes of recent Oscar ceremonies will be dropped, while acting presentations will return to a simple single-presenter format, after two years of experimenting with five-person nominee tributes.
Both strike me as good moves. The montages, even when they're not as uninspired or irrelevant as last year's head-scratching horror-film tribute, have been a constant point of complaint for those who find the show overlong, and represent the easiest, most painless area to trim some fat.
I suspect there will be fewer protests over the loss of the montages than the multi-presenter acting tributes — though those have received a mixed reaction in the past two years. I, for one, won't miss them. As conceived by 2008 producer Bill Condon, the concept was clever enough, particularly when the presenter-nominee match was as inspired as, say, Shirley MacLaine singing the praises of Anne Hathaway in a role that could be seen as an update of her own early work.
But the presentations brought as many awkward moments as affecting ones — Adrien Brody sleepwalking through his tribute to Richard Jenkins, anyone? Then Shankman and Mechanic completely butchered the idea last year, spoiling the original idea's elegant sense of baton-passing tradition by having non-winners deliver tributes, while divorcing the tributes from the final presentation in a very clumsy (and time-consuming) segment. Best to scrap the routine altogether, I think, than risk another such fiasco.
Cohen does, however, offer this cryptic hint as to how the nominated actors will be appropriately celebrated:
What we did love about [the five-way presentations] was that it was a moment where each of the nominees really gets their due. [But] we found a version of that, without using the five people on stage, from the 1970 Oscars, and we stole it.
I must profess to being a little confused — YouTube clips of acting presentations from both the 1969 and 1970 ceremonies (depending on whether Cohen is referring to the film year or ceremony year) reveal nothing more innovative than a rote read-through of the nominees' names. Can any more seasoned awards-watchers cast their minds back and illuminate us young 'uns?
Anyway, this all raises my hopes for a tight, entertaining night's viewing come Sunday. The counter-intuitive selection of Anne Hathaway and James Franco to host is a decision we can only judge after the fact, but that wild card aside, Cohen and Mischer seem to have their heads screwed on straight.
[Photo: World Culture Pictorial]