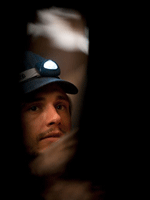 I'm afraid you'll find that I'm having trouble getting all that excited about this year's race for Best Film Editing. How can I when the absolute best editing job of the year (from a true master, no less) was shunned altogether, while a cruel joke was played in the form of "Inception" editor Lee Smith getting the shaft, too.
The below is a decent set of contenders with an array of virtues. It's just a shame that the editor's branch is so slavishly devoted to Best Picture frontrunners, especially when truly exceptional work that doesn't necessarily find itself dovetailing with Oscar bait is ignored each and every year. Nevertheless, the statistic remains: in 30 years, no film not nominated here has gone on to win Best Picture.
The nominees are:
"Black Swan" (Andrew Weisblum)
"The Fighter" (Pamela Martin)
"The King's Speech" (Tariq Anwar)
"127 Hours" (Jon Harris)
"The Social Network" (Angus Wall and Kirk Baxter)
That stat isn't much in play this year unless you thought "True Grit" was going to be a serious competitor. The three frontrunners are present and accounted for. Still, those two that are missing, that really stings.
But I'll try to take solace in the fact that "Black Swan," despite coming up lame in a few other below-the-line fields, managed to find some recognition for editor Andrew Weisblum. It is, in this viewer's humble opinion, the best of the lot. This kaleidoscope of genre and atmosphere is most reliant upon its construction, diving deep into the furthest recesses of a frail feminine psyche. All of Darren Aronofsky's efforts to date, even the more even-handed "The Wrestler," have been notable for the style and power of their assemblage, and his latest fits perfectly into his repertoire in that regard. But given that there are three tough competitors that already have the Academy's collective heart, it's fair to say it'll be a tough road to the proper Oscar recognition for this one.
The first of those films is David O. Russell's "The Fighter," the editing duties of which were handled by Pamela Martin. Martin comes from the world of comedy and goes all the way back to "Spanking the Monkey" with the director. This film probably pulled into the second-place position behind the period piece favorite for the Best Picture crown, so it's fair to say it's formidable here, too. And the work shouldn't be underestimated, because so much of the film's trademark rhythm and singular tone is a direct result of editorial choices made throughout. The assemblage of fight scenes is always a test for a film editor, but the choice to integrate cooked-up television broadcast footage and find a place for that, as well, in the overall structure of those scenes was a delicate balance and one that ultimately paid off.
If you want to go out on a limb, it wouldn't be crazy to expect "The King's Speech" to triumph here, especially if you're anticipating quite the coming out for the film on Oscar night. Tariq Anwar is a tried and true veteran, his first nomination coming for "American Beauty" over a decade ago. Scoff at the work receiving recognition all you want (it's becoming posh to underestimate the various commendable artistic aspects of the film), but there is a trick to balancing comedy and drama on the page, in the director's chair, on the sound stage and, most certainly, at the editing bay. And sometimes, great work in this field really is attributable to an invisible quality, which is the virtue of Anwar's work here. It's entirely possible, indeed, highly probably that a flashier job wins, but I'm just saying this wouldn't be a shocking winner.
Speaking of flashy jobs, the flashiest is probably "127 Hours," which was a bit of a surprise for those expecting a certain guild-dominating sure thing to show up here. Danny Boyle wanted to film the story of Aron Ralston's defining moment in brash, bold, visionary strokes, and he wanted to give the film a tangible energy, not least of all because the events it depicts aren't the most visually dramatic in and of themselves. So he and co-writer Simon Beaufoy set about constructing a screenplay that had no safety net and reached far for visual and thematic flavor. The resulting footage was no doubt a field day for editor Jon Harris, who was already coming from a Guy Ritchie/Matthew Vaughn school of frenetic filmmaking. It could be an attractive pick for voters, but I'm thinking it's bringing up the rear.
The safe money is probably on ACE drama winner "The Social Network," which is entirely dependent on a unique, layered structure. Given that the particulars of the film's construction were apparent on the page, Aaron Sorkin probably deserves a piece of this recognition, too. But I don't mean to shine a light away from Kirk Baxter and Angus Wall, who have been working with director David Fincher consistently as of late and brought a graceful flow to a film that bounced around from lawsuit to lawsuit on the rat-a-tat dialogue of its cast of characters. This award has gone to the Best Picture winner 12 of the last 20 years, but in five of the eight cases where it didn't, it fell as consolation to a Best Picture bridesmaid with showcase editing. So will it go the way of "The Aviator," "Traffic," "Saving Private Ryan," "Apollo 13" and "JFK" or won't it?  Given that ACE has predicted this category for nine-straight years, I'm comfortable saying "Yes, it will."
Will win: "The Social Network"
Could win: "The King's Speech"
Should win: "Black Swan"
Should have been here: "Shutter Island"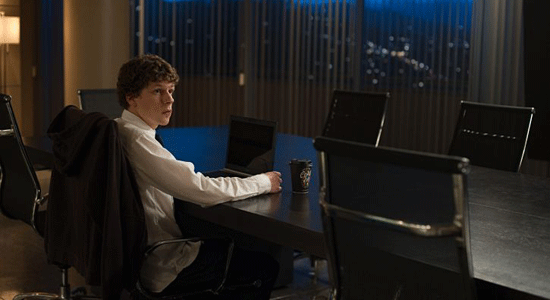 Check out my current rankings for this race at its dedicated Contenders page here.
What do you think deserves to win the award for Best Film Editing? Have your say in today's sidebar poll!
[Photos: Fox Searchlight Pictures, The Weinstein Company]