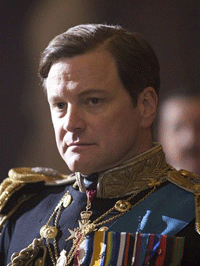 I'm watching CNN's report of the on-going situation in Libya as I write these comparably pointless words. The "real world" seems so unique, so foreign after having our head in the awards season clouds since September. Now, six months in, victory lane is a mere six days away. And man, it's been a marathon.
So let's dive in one more time.
The journey for "The Social Network" has been a fascinating one. And now, with wins for Best Film Editing, Best Adapted Screenplay and, potentially, Best Director coming, some are arguing an upset by the film in the Best Picture race is still in the cards. It would be delightful, but it would be considerably more surprising than the moment a number of pundits point to as a bellwether shocker in the Academy's recent history: "And the Oscar goes to…'Crash.' Whoa."
Most, however, seem to agree that "The King's Speech" has it in the bag, and I think that's sound. The only question is, to what extent has it won over the Academy? Anywhere from three to 11 wins makes perfect sense.
Best Picture, Best Actor, Best Original Screenplay. I feel we can take those to the bank. Best Original Score is on the next tier and I feel pretty good about that. Best Supporting Actress has become a talking point in the wake of Helena Bonham Carter's blasé charm fest, and given that the category is so up for grabs, I'm leaning that way today (the only Oscar Guide entry I've officially changed so far).
Next up, the design fields. I mentioned a few stats in a thinking-out-loud post over the weekend, but let me restate them briefly…
The last Best Picture winner nominated for Best Art Direction to lose that award was "Gladiator," which lost to fellow Best Picture nominee "Crouching Tiger, Hidden Dragon." The last time before that was "Forrest Gump," which lost to period piece "The Madness of King George," and before that, it was "Unforgiven," which lost to period piece "Howards End."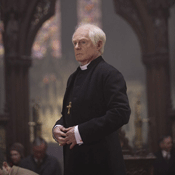 Similarly, the last Best Picture winner nominated for Best Costume Design to lose that award was "Braveheart," which lost to period piece "Restoration." Before that it was "Schindler's List," which lost to period piece "The Age of Innocence," and before that, it was "Driving Miss Daisy," which lost to…you guessed it, a period piece, "Henry V."
Meanwhile, no Tim Burton film nominated for Best Art Direction has ever lost the award, while no Tim Burton film nominated for Best Costume Design has ever won it. I bring that up because "Alice in Wonderland" is largely considered formidable in both fields, though many are taking the BAFTA and ADG wins for "Inception" as a sign it'll triumph (which just doesn't compute to me for various reasons already mentioned here and on the podcast).
Finally, the only true fantasies to win Best Costume Design in the Academy's history are "The Lord of the Rings: The Return of the King" and "Star Wars," both respected blockbusters with 11 and 10 nominations respectively. It's more common for a fantasy to win Best Art Direction, however.
Bottom line: With that information and given the nature of competition in the categories, I'm comfortable expecting "The King's Speech" to win both. So if you're keeping score, that's seven wins, which is a fair number to me. It's the same number "Shakespeare in Love" took home in 1998, perhaps the best template for "The King's Speech." And eight, if I'm being honest, begins to sound like too much.
But there are still other possibilities. First on that list, Best Director.
Tom Hooper won the DGA, voted on by a vast organization made up of various disciplines, not just film directors — kind of like the Academy. David Fincher won the BAFTA, voted on by that organization's specialized directing branch, as in, film directors. He also dominated the critics awards circuit, which is beside the point but I'll mention it anyway.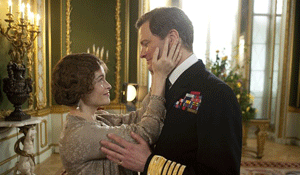 That's a real conundrum. I'm currently predicting Hooper, which makes the most sense to me. But again, eight seems like too much. Maybe pulling back on that supporting actress call is in order. I'm just thinking out loud here.
The final considerations are Best Cinematography, which I think is entirely possible, especially when you consider this painstaking but interesting stat. Nevertheless, I put it on the penultimate tier with Best Film Editing (which may have taken a hit from ACE) and Best Supporting Actor (which has a few hopping off the Christian Bale train in favor of Geoffrey Rush following a surprising BAFTA win, but I find that ill-advised, considering how that organization clearly didn't respond to "The Fighter").
At the bottom, the one I think we can all chalk up as the nomination being the reward: Best Sound Mixing.
So, that's where I'm at.  The Oscar Guide is on-going and only one, as mentioned, has been retroactively updated.  The Contenders section has been updated in full with "final" predictions (noted in the sidebar, as always), save for the remaining five categories.  Those will be updated throughout the week.  If I should change anything else (possibilities: Best Original Song, Best Documentary Feature and Best Live Action Short), I'll be sure to let you know here, but all predictions will be really and truly finalized Friday and announced, with Anne's, on this week's Oscar Talk.
Feel free to go ahead and start chalking up your final predictions and/or thoughts on the race in the comments section below.  Six…more…days.
(A reminder: Tomorrow brings part one of our annual "top 10 shots of the year" column.)
[Photos: The Weinstein Company]