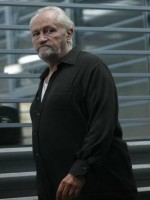 One last set of kinda-critics' awards to see out the season — the International Cinephile Society is an online group of journalists, academics and industry professionals that, true to their name, offers a slightly more global outlook in their measuring of the year's best.
It's a small organization, but I mention their awards here for two reasons: 1) I'm one of the voters, and 2) despite that hindrance, they've assembled one of the best winners lists I've seen all season. Jacques Audiard's long-lingering prison drama "A Prophet" evidently still weighs heavily on people's minds, as it took the group's top two awards, plus an acting win for Niels Arestrup.
Its tally was equalled, however, by "Another Year" and "The Social Network," making for a pretty generous spread of choices — few of which we're likely to see echoed on Sunday night. Vive la différence, and all that. Full list of winners after the cut.
Top 10 Films of 2010
1. "A Prophet"
2. "Carlos"
3. "Another Year"
4. "The Social Network"
5. "Everyone Else"
6. "I Am Love"
7. "Blue Valentine"
8. "Black Swan"
9. "Exit Through the Gift Shop"
10. "Inception"
Best Director: Jacques Audiard, "A Prophet"
Runner-up: Olivier Assayas, "Carlos"
Best Actor: Édgar Ramírez, "Carlos"
Runner-up: Tahar Rahim, "A Prophet"
Best Actress: (tie) Lesley Manville, "Another Year" and Giovanna Mezzogiorno, "Vincere"
Runner-up: Tilda Swinton, "I Am Love"
Best Supporting Actor: Niels Arestrup, "A Prophet"
Runner-up: John Hawkes, "Winter's Bone"
Best Supporting Actress: Olivia Williams, "The Ghost Writer"
Runner-up: Elle Fanning, "Somewhere"
Best Original Screenplay: "Another Year"
Runner-up: "Everyone Else"
Best Adapted Screenplay: "The Social Network"
Runner-up: "Wild Grass"
Best Cinematography: "I Am Love"
Runner-up: "True Grit"
Best Film Editing: "The Social Network"
Runner-up: "Carlos"
Best Production Design: "I Am Love"
Runner-up: "Inception"
Best Original Score: "The Social Network"
Runner-up: "The Ghost Writer"
Best Ensemble: "Another Year"
Runner-up: "The Kids Are All Right"
Best Animated Film: "The Illusionist"
Runner-up: "Summer Wars"
Best Documentary: "Exit Through the Gift Shop"
Runner-up: "Boxing Gym"
Best Picture Not Released in 2010
"The Autobiography of Nicolae Ceausescu"
"Certified Copy"
"Film Socialisme"
"Heartbeats"
"Honey"
"I Killed My Mother"
"Kosmos"
"Meek's Cutoff"
"Mysteries of Lisbon"
"Of Gods and Men"
"Uncle Boonmee Who Can Recall His Past Lives"
[Photo: Sony Pictures Classics]