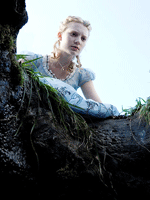 You may have heard Anne and I get into it over the design categories in Friday's Oscar Talk.  For costumes, she maintained that the great (and deserving) Colleen Atwood is likely to win for "Alice in Wonderland." Yet, as best I can tell, the only true fantasies to win the award — ever — are "The Lord of the Rings: The Return of the King" (a bona fide sweeper) and "Star Wars" (I'm considering "Bram Stoker's Dracula" a period entry).  And no Tim Burton film has won here when nominated, unfortunately.  I'm thinking "The King's Speech."
She also contended that Tim Burton's film and "Inception" are more likely to win Best Art Direction than the period frontrunner.  You know where I stand on what's deserving, but I don't think the Academy at large is savvy enough to go there.  History is on the side of "Alice in Wonderland" when you consider the fact that no Tim Burton film nominated for Best Art Direction has ever lost (going all the way back to my beloved "Batman").  So suddenly I'm leaning in that direction more than I was for costumes.  Additionally, fantasies have historically fared better here than in Best Costume Design.
My template for "The King's Speech" is very much "The English Patient." I do see it as a potential sweeper, winning seven or eight Oscars.  Maybe.  Others think it's closer to six, which is also possible.  But do you remember the sets and costumes of Anthony Minghella's film?  Not really, right?
At the end of the day, it's probably safer to predict the same film for both categories, in case you get the split wrong.  But I'm a bit stuck.
Let's open it up for some discussion.  After ACE, I'm feeling a little more confident in that category, leaving these two as the real question marks with a week left in the season.
[Photos: Walt Disney Pictures]