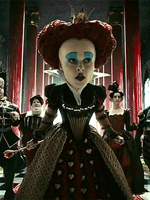 Alright, so I should have gone with what I said was the safe bet for the ACE drama Eddie.  Rather than making history by awarding a film not nominated for the editing Oscar and giving it to the truly deserving contender, "Inception," the editors decided to rethink it and go with "The Social Network" instead.  Fair enough.
I was, however, correct in assuming "Alice in Wonderland" had a better play on the win than the other comedy hopefuls.  "Toy Story 3" triumphed in the animated field as expected, while I was also on the money with "Exit Through the Gift Shop" winning in the doc category.  I'll take three out of four.
"Inception" could, however, take the Cinema Audio Society award for sound mixing, which is what most are expecting.  More on that when those awards wrap up shortly.
I'll address the editing field in Monday's Oscar Guide, but I think I'm okay with anticipating ACE proving 10 years in a row with prognostication prowess in that regard.  The MPSE announces winners in an array of sound editing fields tomorrow and the Costume Designers Guild closes out the guild season Tuesday.
[Photo: Walt Disney Pictures]