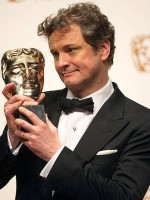 • To the surprise of precisely no one, hometown favorite "The King's Speech" reigned supreme at the BAFTAs.
• Before you go basing your Oscar predictions on the BAFTA outcome, Kris pointed out a crucial caveat.
• "Inception" added another guild award to its mantel, as Wally Pfister beat Roger Deakins to the American Society of Cinematographers' top prize.
• Guy hobbled off to the Berlinale, where his festival coverage included an early 2011 Oscar prediction for Vanessa Redgrave in Ralph Fiennes's "Coriolanus."
• Other Berlin attractions: a surprising triple-bill of arthouse 3D pics, and an art exhibition by one James Franco.
• We interviewed the delightful Amy Adams, currently enjoying her third Oscar nomination in six years.
• Also on the interview docket: 20-time nominee Randy Newman.
• Our Oscar Guide continued, this week sizing up the races for Documentary Feature, Cinematography, Original Score, Sound Mixing and Visual Effects.
• As always, Oscar Talk took stock of the week that was — as well as getting stuck into a certain controversial foreign-language nominee.
[Photo: The Telegraph]