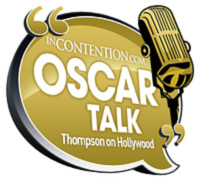 Welcome to Oscar Talk.
In case you're new to the site and/or the podcast, Oscar Talk is a weekly kudocast, your one-stop awards chat shop between yours truly and Anne Thompson of Thompson on Hollywood. The podcast is weekly, every Friday throughout the season, charting the ups and downs of contenders along the way. Plenty of things change en route to Oscar's stage and we're here to address it all as it unfolds.
We've got another 10 days left in the 2010-2011 awards season, not that anyone's counting. That means three more episodes of Oscar Talk and Anne and I will exit stage right, but for now, there is still, as always, plenty to chew on. Let's see what's on the docket today…
• The BAFTA Awards went down last weekend. We discuss whether it means something or whether it's just a blip on the season's radar.
• We focus on a couple of categories this week, starting with the Best Foreign Language Film race. Having seen each of the nominees, we both give our personal takes and our expectations for the Oscars.
• Also discussed this week: the animated short films. It's always a tough chore to pick what will resonate with these categories but we give it a try.
• Banksy is in Los Angeles this week, making his presence known and keeping people talking about "Exit Through the Gift Shop." Worth discussing.
• This weekend brings the ACE and CAS awards, so we offer some quick anticipatory thoughts on those.
• And finally, reader questions. We address queries concerning Facebook's potential influence on the race, how we'd improve the show and what it means to "campaign" for an Oscar.
Have a listen to the new podcast below. If the file cuts off for you at any time, try the back-up download link at the bottom of this post. And as always, remember to subscribe to Oscar Talk via iTunes here.
[display_podcast]

Back-up download: Oscar Talk Episode 53