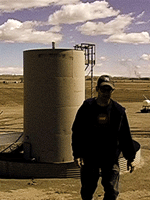 It has been noted what a solid year of documentary filmmaking 2010 was. It was well-reflected in the Academy's initial narrowing of the feature field to 15 contenders and is certainly evident in the ultimate quintet of nominees, each of them informative and bold in their own ways.
Still, it came as quite a shock to many that the perceived frontrunner of the year, Davis Guggenheim's "Waiting for Superman," was left off the list. Theories run rampant, but at the end of the day, it seemed the branch just didn't go for the film's stretching of truths and hastily boiled-down rhetoric. Nevertheless, an opportunity may have been missed to shine a light on the issue of education reform, which is still a considerable one.
The nominees are:
"Exit through the Gift Shop" (Banksy and Jaimie D'Cruz)
"Gasland" (Josh Fox and Trish Adlesic)
"Inside Job" (Charles Ferguson and Audrey Marrs)
"Restrepo" (Tim Hetherington and Sebastian Junger)
"Waste Land" (Lucy Walker and Angus Aynsley)
It's important to keep in mind that this is one of five categories voted on by committee, so voters have to see all the nominees in order to have a say. But let me just say this is probably the most satisfying of all the categories this year, so at least it's a choice between quality and quality.
Right at the top, you know what I have to say about Banksy's poignant portrait of art as passion, consumerism and, ultimately, a pointless dodge. The UK-based street artist is in Los Angeles as you read these words, carrying on in alleyways and on billboards, making his presence and the presence of "Exit Through the Gift Shop" known. Banksy sightings have come to be one of the more interesting elements of phase two this year, and what a joy it would be to see him and his producer Jaimie D'Cruz take home the Oscar (even if the Academy has gone out of its way to make sure no shenanigans ensue if things indeed pan out that way). Part of me wants to think Academy members are cool enough to award the year's best feature film, but it's a toss-up between this and a certain current affairs piece that could be seen as more worthy of their public appreciation.
Speaking of current affairs, Josh Fox dug into the issue of hydraulic fracturing in "Gasland," a film that really stirred the corporate pot as the gas industry has already fired back. Fox later responded via his Facebook page. Controversy is rarely a bad thing for a documentary in the Oscar race, but the back and forth didn't catch hold beyond a one-week talking point, so that's not likely to help out Fox and co-nominee Trish Adlesic's cause in a grand publicity sense. The film began as a personal journey for the Colorado-based filmmaker and ultimately turned over a number of stones on its way to indicting a process that appears to be needlessly poisoning water supplies while corporate giants, naturally, turn a blind eye. In a weaker year it might have a play on the statue.
If hoax accusations and general squareness hold back my personal favorite in the field, then I could see Charles Ferguson and his producer Audrey Marrs making a trip to the podium for the Wall Street crash treatise "Inside Job." This is their second nomination after being recognized for "No End in Sight" in 2007, and this time around, Ferguson was more ruthless than ever, aiming right for the jugular of a number of underestimating finance experts, many of them key players in the country's fiscal meltdown two years ago. What's more, he doesn't play the partisan game, sticking it right to the Obama administration for willfully inheriting some of those same players in its financial departments. It's a close race, and this one could ultimately pull out the win, though it does have its talking head nature working against it.
The one nominee that, to quote our own Guy Lodge, "astonishes by its very existence," is Tim Hetherington and Sebastian Junger's gripping, brave and, above all, balanced "Restrepo." An on-the-ground account of soldiers holding down an Afghanistan outpost, the film avoids sticky and unnecessary editorial by focusing on the more moving elements: the human beings on the front lines and the relationships they forge. But the film isn't oblivious. It arrives, rather gracefully, at a point of questioning the purpose of the conflict by documenting its subjects' reaction to the events as they unfold around them. No one can question the filmmakers' determination, having embedded with the unit for a year and a half. The end result would make a fine Oscar winner indeed.
Finally there is the soft spot of the bunch, by which I mean Lucy Walker's "Waste Land" probably takes the crowd-pleaser prize this year. The film, produced by co-nominee Angus Aynsley, depicts contemporary artist Vik Muniz's collaboration with "catadores" (pickers of recyclable materials at the world's largest landfill outside of Rio de Janeiro) to create amazing large-scale works of art to be photographed. It carries real emotional weight and drives home a message with endearing characters, and it might just be too difficult to pass up as a result. It also won the International Documentary Association's prize, so obviously Walker's fellow documentarians are on board. It could be the spoiler few are expecting.
Will win: "Exit Through the Gift Shop"*
Could win: "Waste Land"
Should win: "Exit Through the Gift Shop"
Should have been here: "Catfish"
Check out my current rankings for this race at its dedicated Contenders page here.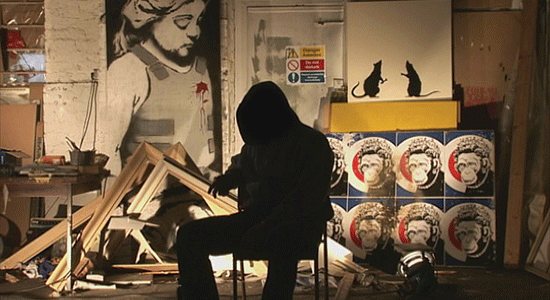 What do you think deserves to win the award for Best Documentary (Feature)? Have your say in today's sidebar poll!
*This prediction updated on 2/25/2011.
[Photos: National Geographic Entertainment, Sony Pictures Classics]