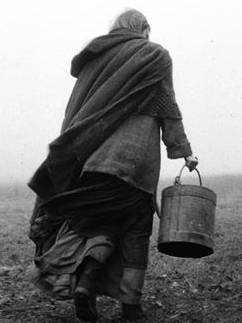 The Berlinale competition drew to a close this morning, with Joshua Marston's "The Forgiveness of Blood" — more on that in a final roundup this weekend — wrapping up a selection that's been a typically mixed bag for the festival. Healthy critical argument has flared up over a number of titles — including lone Asian entry "Come Rain, Come Shine," a bare-bones day in the life of a separating couple that struck some as delicately affecting and others merely as attractively vacant. (I'm one of the others, sad to say.)
Meanwhile, films the critical majority has sided against include "Lipstikka," a reportedly bananas Israeli melodrama that Telegraph critic Tim Robey warned me off with this choice dialogue sample: "You play games with me, like you used to do with your men, with your sex and boobs." Part of me regrets missing this one.
Amid the splinters of the Competition, however, a pair of critical favorites have moved comfortably ahead of the pack in terms of general approval and all-round buzz — they screened three days ago, eons in festival time, yet I've barely heard anyone talk about any other films since. I'm afraid to say that my own top film of the fest, Cameroon-set German drama "Sleeping Sickness" (reviewed here), isn't one of them.
Still, Béla Tarr's "The Turin Horse" and Asghar Farhadi's "Nader and Simin, a Separation" were pegged ahead of the festival as ones to watch, and duly lived up to expectations. Tarr's film just scooped the FIPRESCI critics' prize this evening, and as foolhardy as it is to anticipate festival jury decisions, it'll be something of a shock if neither of these films takes the Golden Bear tomorrow night.
Even as I write it, I realize that "expectations" is a cloudy choice of word when it comes to Tarr, the revered Hungarian doom merchant whose previous work — notably "Sátántangó," a seven-hour meditation on corruption within a rural community, and the comparatively breezy "Werckmeister Harmonies" — follows no discernible template outside the words "audience-testing" and perhaps "scored with a broken accordion." Before the press screening of his stately, granite-textured and altogether rather tremendous new feature "The Turin Horse" (***1/2), some ascetic critics were all but frothing at the mouth with excitement over the allegedly punishing experience ahead of us: "I hear it makes 'Sátántangó' look like 'Legally Blonde'," enthused one friend of mine.
Certainly, Tarr virgins will be left bewildered at best by the film's repetition-based anti-narrative and molasses pacing. But as it turns out, "The Turin Horse" is one director's simplest works, if also among his most severe. A visually and verbally spartan survival tale set in the 19th century, tracking a father and daughter (and, yes, a horse) as they seek shelter on an arid, blizzard-bruised rural landscape, the film builds entire dramatic acts around single aspects of their daily routine: the boiling and eating of potatoes, the loading of carts, the drying of laundry, mostly captured in long, real-time takes. If it sounds indulgent, this pedantic devotion to minutiae does hammer home the urgency of the characters' plight; the cumulative effect is grindingly moving.
If you've already run a mile, I won't blame you: even Tarr acolytes might question how far the film's despairing tone and extreme longueurs tip into the realm of self-parody (if, indeed, irony is even in Tarr's vocabulary). But even the wariest arthouse sceptics would be hard pressed to deny the mastery of technique on display here. Working in rangy, expressive black and white, DP Fred Kelemen  lights the domestic scenes like still-life tableaux, lending onscreen movement a ceremonial gravity. Equally spectacular is the sound design, underpinned by screaming gale winds that don't let up throughtout the film's 146-minute running time, and eerily fused with the atonal organ loop the dominates Mihály Vig's score.
With even its craft elements posing a certain imposing degree of challenge, then, "The Turin Horse" is a wilfully austere piece of art, but it'd be the lazy critic who tags it "pretentious": this imperfect but imperious film is the work of an auteur who has never seemed more assured of his creative identity.
Tarr's film may well prove too niche a proposition for the Bear — though with a jury that includes Isabella Rossellini, Guy Maddin and Sandy Powell, one suspects their weirdness threshold is pretty high — in which case the equally serious-minded but rather more approachable "Nader and Simin, a Separation" (***1/2) stands to benefit. Speculation has been rife at the festival that the continuing Jafar Panahi controversy (the persecuted Iranian filmmaker has kept a symbolic place on the jury in spite of his inability to travel) could well work in the Iranian film's favor.
It'd be a shame if such political gestures came into play, since Asghar Farhadi's film — his first since the well-received "About Elly," for which he took the Best Director award here two years ago — deserves ample plaudits on its own merits. A densely plotted and intelligently tough-minded ethical drama that balances a range of interconnected civic and domestic disputes like Jenga blocks, it continues Farhadi's last film's investigation of Iran's under-portrayed urban middle class, this time with more social nuance and narrative propulsion.
We open on the divorce proceedings of the titular couple (Peyman Moaadi and Leila Hatami, both superb), but this serves merely as the incitement for a host of legal, personal and spiritual conflicts. With Samin no longer at home to nurse her husband's Alzheimer's-afflicted father during the day, struggling, pregnant housewife Razieh (Sareh Beyat) is hired to help; after a fallout with Nader over her incompetence turns physical and Razieh miscarries, a heady tangle of tensions grows, with Razieh's stern faith the lynchpin.
The drama plays out with all the momentum and immediacy of a well-constructed thriller, while the performances — notably Farhadi's own daughter Sarina as the bookish 10 year-old caught between allegiances to both her parents and her own moral compass — could hardly be bettered. It's commendably tricky adult storytelling, slowed only by one-note strains to the parties' arguing in the middle section; much Iranian cinema that receives international distribution could be accused of exoticizing the country to some extent, but many western viewers will be surprised just how relatable this smart, thistly film is.