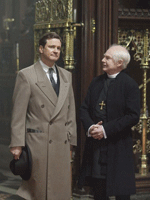 A number of people asked about the BAFTA outcome in our solicitation for Oscar Talk queries this week. We'll be discussing last weekend's awards on the show, but I thought I'd address those questions separately here.
A sample:
With the BAFTA below-the-line awards not all going to The King's Speech (even things like Art Direction and Costume), as expected, is the extremely well-covered supposed sweep of the film still holding strong?
My answer: Yes, it is. Something the BAFTA does (which, frankly, the Academy should do, but more on that in a moment) is relegate all categories except Best Picture, Best Foreign Language Film and the acting fields to branch-specific voting. That means production designers decided that "Inception" deserved to win Best Production Design at BAFTA, costume designers decided that "Alice in Wonderland" deserved to win Best Costume Design and, indeed, directors decided David Fincher deserved to win Best Director.
Similarly, in the wake of (certainly impressive) guild wins by "Inception" as of late, some are wondering if the races for Best Art Direction and Best Cinematography are closer than we all thought. But again, this is specialized voting. The key, as always, is understanding the Academy's process.
To recap, outside of the foreign, documentary and short film races (accounting for five categories), the entire membership of the Academy is voting for winners. So art directors are deciding what deserves Best Sound Editing. Sound editors are deciding what wins Bet Art Direction. It's all one big pot with some takes on this or that race being educated ones, others, not so much.
I've always felt the Academy should adopt BAFTA's system. There's a reason a guy like Greg P. Russell has been waiting for years to win an Oscar while putting out quality work as a sound mixer (much of it award-worthy). He more often works on films that aren't exactly Oscar bait, and the Academy at large just isn't going to think "Transformers" deserves an award no matter how pristine and complex its sound mix is (not that most of them know from good sound mixing in the first place). They'll spring for the film they liked better, a respected actioner, and voila, "The Bourne Ultimatum" is an Oscar winner.
Circling back to my original point, I wouldn't put a lot of stock into the below-the-line categories at BAFTA when it comes to anticipating the Oscars this year. The same goes for Fincher's Best Director win, which a number of people thought signaled some life in that field. When everyone has a voice, expertise goes out the window and it's all about what they liked the most.
So a dominant showing for "The King's Speech" throughout the categories is still very much your most likely scenario.
[Photo: The Weinstein Company]