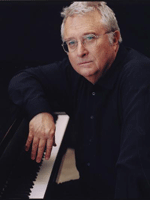 When the Oscar nominations were announced last month, composer Alan Menken almost tied Randy Newman for third-most nominations among living artists.  But Newman inched away, nabbing his own nomination for the song "We Belong Together" (listen) from "Toy Story 3" and thereby maintaining a firm grip on the designation.
It was Newman's 20th nomination to date, a healthy run by anyone's measure.  But it was extra special given his recent history with Pixar Animation Studios, and the voice he has given to the "Toy Story" franchise since its 1995 beginnings.
He was able to put a bow on the series in his own special way, and should he win the Oscar next weekend, it'll be his second trophy.  His first also came for a Pixar entry, "Monsters, Inc.," which netted him the gold in this very same category.
So what better person to close out our Tech Support interview series than with the most-nominated of the year's below-the-line class?  He's making the rounds lately, so rather than put together a written piece I thought it best to be a little unique and let you to hear it from the man himself.
Check out my chat with Newman below.  He has a distinctive cadence so it's possible that, mixed with the use of a cell phone, could make things slightly difficult to understand here and there, but maybe not.  You'll see very quickly that he's an affable, humble guy taking it all in stride and just trying to play a few good tunes along the way.
Gerard will be back to close out the column properly next week with a final analysis of the crafts categories.
[display_podcast]
[Photo: Pixar Planet]