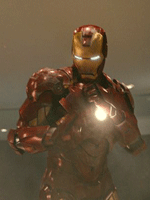 This year the visual effects branch of the Academy followed the lead of the sound editing category and widened its net to five nominees. It did not, however, follow suit by eliminating the superfluous bake-off process, which whittles the contenders down to seven before deciding on the ultimate slate of nominees.
This year the two films that missed the cut after making the bake-off were the inventive "Scott Pilgrim vs. the World" and, famously, the effects beast of the year "TRON Legacy." The latter was shunned as a result of shoddy de-aging work despite having quality in spades throughout the rest of the film, but regardless, a drama with a single effects scene of note and a sequel with nothing new to offer managed to slide in instead.
The nominees are:
"Alice in Wonderland" (Ken Ralston, David Schaub, Carey Villegas and Sean Phillips)
"Harry Potter and the Deathly Hallows: Part 1" (Tim Burke, John Richardson, Christian Manz and Nicolas Aithadi)
"Hereafter" (Michael Owens, Bryan Grill, Stephan Trojanski and Joe Farrell)
"Inception" (Paul Franklin, Chris Corbould, Andrew Lockley and Peter Bebb)
"Iron Man 2" (Janek Sirrs, Ben Snow, Ged Wright and Daniel Sudick)
This probably marks one of the easiest calls of Oscar night, which is a bit of a breather, considering how many close races we have dotting the nominations landscape. But it's regardless unfortunate that the first year of an expanded field yielded such a weak line-up.
The only film that seems poised to spoil the frontrunner is probably Tim Burton's "Alice in Wonderland." The fantasy raked in a billion dollars worldwide and sports a who's who of crafts talent below the line. Veteran Ken Ralston and co-nominees David Schaub, Carey Villegas and Sean Phillips were tasked with a hefty green screen challenge on the film, mingling with the vibrant set and costume design to provide a true hybrid of practical and computer-generated magic. The film certainly isn't a critical favorite, but points are rarely docked for that in this field. There are a couple of opportunities for voters to spring for the overall effort in other categories, but this doesn't appear to be one of them. Interestingly enough, this is only the second Burton feature to land a nomination here.
Once again, my caveat on "Harry Potter and the Deathly Hallows: Part 1" is that it's the only film nominated this year I haven't seen. So I have no real comment on the visual effects of the film, contributed by a team headed up by Tim Burke, John Richardson, Christian Manz and Nicolas Aithadi, but I feel safe in assuming voters will gloss over it when deciding from this list. There is, after all, only one Best Picture nominee on the ballot, which will certainly draw the most votes, and this series was only ever shortlisted here once in the past. There is also a follow-up closing installment on the way later this year, so maybe voters aware of the franchise will hold off, if they even think it deserving of an Oscar in the first place. Whatever the case, at the end of the day, this one might just be lucky the field was expanded this year.
The surprise of the morning in this category when the Oscar nominations were announced was "Hereafter" and its visual effects crew — Michael Owens, Bryan Grill, Stephan Trojanski and Joe Farrell — somehow sliding in over more audacious work on the two bake-off also-rans. The film's opening instant-classic tsunami set piece was equally praised and criticized, some thinking it gripping and realistic, others finding the CGI distracting and fake. But it seemed to be just what the doctor ordered when it came to a high-concept-heavy bake-off scenario, as the visual effects artists considered it worthy of inclusion on the year's slate of nominees. It's the only nomination the Clint Eastwood film managed, so it could be seen as an opportunity for voters who felt it deserved more. But the question remains, does that one sequence have enough impact by itself to win over enough of them? I wouldn't hold my breath.
All signs seem to rightfully point to the practical effects wizardry of Christopher Nolan's "Inception." Nolan has been accepting award after award from below-the-line organizations this year, one of them being the inaugural Visionary Award from the Visual Effects Society. His name has of late become synonymous with blockbuster spectacle, and his latest is the pinnacle of that breed of cinematic vision. If ever there was a moment to honor his trusted effects team, now is that moment. But it would also be a victory for an old school sensibility that contrasts strikingly with an upcoming year of forced CGI, sequelized product. Paul Franklin, Chris Corbould, Andrew Lockley and Peter Bebb might as well dust off their mantles, because this one seems like the easiest of calls.
The big downer of the category for me this year was seeing uninspired work on "Iron Man 2" from a seasoned crew including nominees Janek Sirrs, Ben Snow, Ged Wright and Daniel Sudick find a spot in the final five. There was no boundary-pushing on this sequel and some of the effects looked outright undercooked, but here it sits regardless. I think it represents a sort of mindless summer blockbuster that the Academy at large would perhaps prefer not to award (like "Transformers" or "Poseidon" in recent years), but again, being a critical favorite is no prerequisite here. For now it's just warming a spot sure to be taken up — and also likely lost — by the likes of "Green Lantern," "Thor," "The Amazing Spider-Man" and "The Avengers" in the next few years.
Will win: "Inception"
Could win: "Alice in Wonderland"
Should win: "Inception"
Should have been here: "Enter the Void"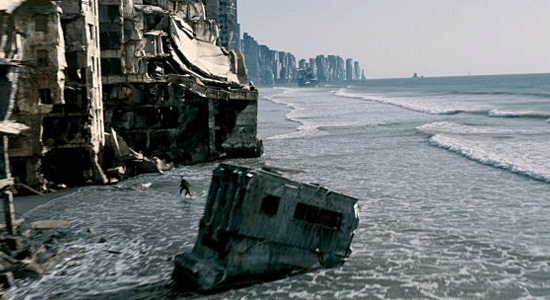 Check out my current rankings for this race at its dedicated Contenders page here.
What do you think deserves to win the award for Best Visual Effects? Have your say in today's sidebar poll!
[Photos: Paramount Pictures, Warner Bros. Pictures]