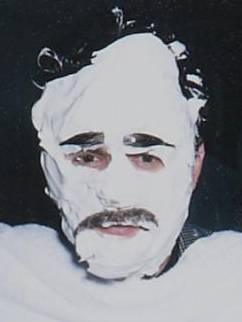 James Franco obviously had to sleep for a couple of hours between rehearsing for the Oscars, campaigning for the Oscars, filming one of his four films set for release this year, preparing to direct two prestige literary adaptations, planning his Broadway revival of "Sweet Bird of Youth" opposite Nicole Kidman, writing the Great American Novel and solving world hunger — since amid those distractions, he didn't have a film to premiere at this year's Berlinale. The man's slacking.
Still, he isn't entirely absent from the city over the festival period: his first solo European art exhibition, "The Dangerous Book Four Boys" opened last week in a private gallery in Berlin's hipster-saturated Oranienburger Strasse district. As a welcome distraction from a second consecutive day of mostly unfulfilling filmgoing (the festival schedule is very much in the winding-down stages, though I still have some crackers to review), I went along to check it out — and as much as I like Franco, I must admit that if, amid his legion of other activities, "visual artist" got dropped from his résumé, it wouldn't be the most crushing of losses.
(Note: depending on your sensitivities, pictures after the cut may not be suitable for the office.)
Though inevitably something of a vanity project, the show is by no means an embarrassment — no better or worse than the majority of quirky independent exhibitions peppering New York's meatpacking district or London's Vyner Street. A haphazard collection of photographs, doodles, short films (including his gay teenage study "Feast of Stephen," which won him a Teddy Award at last year's Berlinale) and other bits and bobs displayed without title cards, the only hint of artist's motivation comes from the helpful flyer I was handed at the entrance:
[W]e see Franco draw upon childhood experiences including notions of identity, maculinity, sexuality and other essential life experiences and culminates in presenting a rejection of normative parenthood and suggesting alternative paradigms for parental relations.
That's an ambitious statement for a scrappy collection of pieces that seem, for the most part, to have tongue formly held in cheek: at the entrance, one is greeted by a glass display case featuring, amongst other things, a latex model of a penis (Franco's own? we may never know) and a series of framed pages torn from a copy of the bestselling male-nostalgia opus "The Dangerous Book for Boys" (hence the exhibition title) defaced with scribbles rather like those you might have made in your math textbook in the fourth grade. The crudeness, I presume, is intentional — a statement on stunted male maturity, at a push — but the promised alternative paradigms remained, for me, elusive.
Predictably, given his day job, the video installations are slightly more substantial, including a longish, sporadically piece where Franco interviews himself and others on adolescent experiences and other, murkier flights of fancy. One of his subjects offers a statement that I rather liked: "Fuck you for calling me different, but thanks for noticing." It's perhaps a fitting description of Franco's own slightly mannered, dude-ish eccentricity. I may not be sold on James Franco, Fine Artist — but as we keep saying, who else in Hollywood is trying on this many hats?
Three photos from the exhibition to give you an idea below. More at the Peres Projects Gallery website.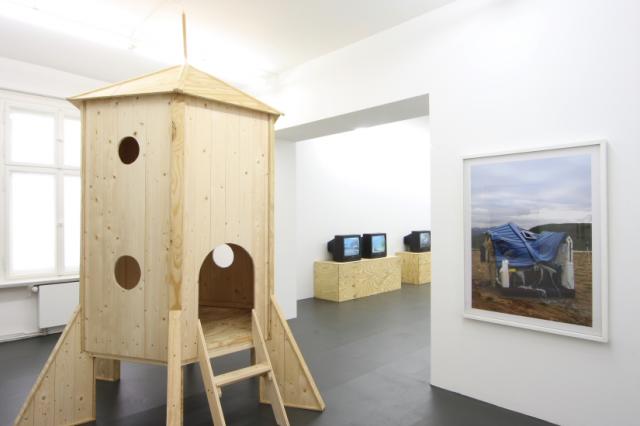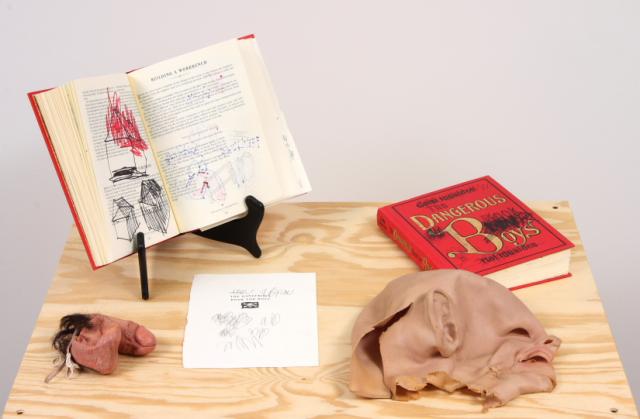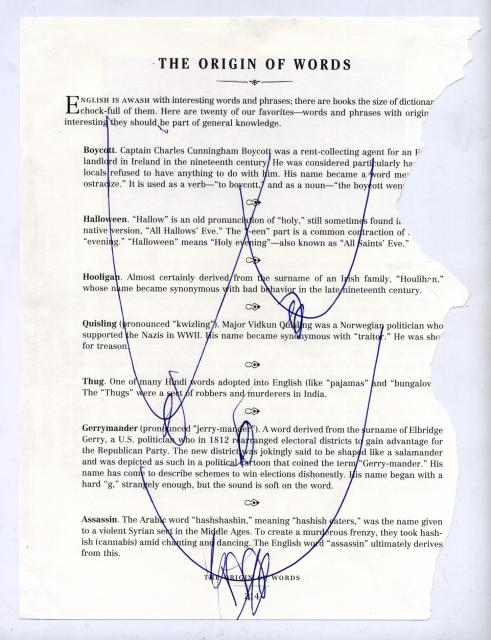 [Photos: Peres Projects]