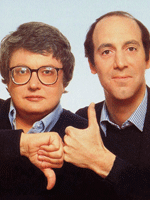 One of the things I'll likely take away from this crazy season, more than the back-biting and the intensity of the race, more, even, than the films I loved, is Roger Ebert's continued resurgence as one of the most vital voices of our community.  His energy hit a new level last year with elevated output via his blog and a big splash on Twitter, and this year, he reclaimed "At the Movies" with two polished hosts at the helm.
Now comes this.  Ebert announced via Twitter yesterday, "Thanks to the Library of Congress and some fans, the earliest years of Siskel & Ebert are online."  And now, for posterity, we have SiskelandEbert.org, packed with classic episodes of the duo's film review segments going all the way back to that first back-and-forth over "One Flew Over the Cuckoo's Nest" 35 years ago.
I've included that episode after the jump, but head on over there if you want to dive into the history books.  A true delight for all film fans.