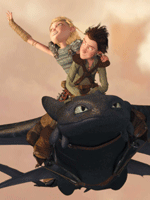 Recently the International Film Music Critics Association were the last critics group to offer their (specialized) thoughts on the 2010 film year. The announcement made for an interesting counter to the year in score awardage. And the eventual nominees for Best Original Score reflected, if nothing else, a continued break with tradition.
The music branch has been slowly initiating new blood as of late, though it hasn't completely relinquished its trademark consistency. A big step was made in the recognition of one of the year's more atypical scores, though a big opportunity was lost with Daft Punk's failure to register what could have been a truly exciting tip of the Academy's hat.
The nominees are:
"How to Train Your Dragon" (John Powell)
"Inception" (Hans Zimmer)
"The King's Speech" (Alexandre Desplat)
"127 Hours" (A.R. Rahman)
"The Social Network" (Trent Reznor and Atticus Ross)
One wouldn't be out of line in thinking a potential sweep for the year's Best Picture frontrunner will extend to this field. But it could also be an interesting place for consolation voting in a few other areas, so maybe the race is more wide open than we think.
The film most likely on the bottom of the list (though one never knows) is "How to Train Your Dragon," which made good on positive critical opinion of its robust score by landing a first nomination for John Powell. It's actually one of the more accomplished and technically proficient pieces of work on the list, floating from tribal rhythms to ominous percussion with ease and packing every corner of the animated hit with musical flavor. It's possible this could be seen as a consolation vote for those who pass on the film in its only other category (Best Animated Feature Film), but it's also up against four Best Picture nominees, all of which will be vying for similar consolation along the way. Nevertheless, it's lovely to see it make it this far when it really is one of the deserving contenders of the year.
Hans Zimmer has been considered a formidable possibility in this category ever since "Inception" hit theaters in the summer. His work on the film — loved by some, dismissed by others — was a bombastic piece of flavor that few would argue failed to contribute to the film's identity. He's also seeing a slight renaissance with Academy favor as of late, nailing down his second nomination in as many years. He just competed against himself for a Grammy Award for his work on the film (the only one of the nominees eligible for Grammy consideration to be nominated this year) and his film will likely be looking to pick up consolation votes throughout the below-the-line fields. Still, all of that feels like an equation for the man and the work coming up a bridesmaid this season to me.
The likely winner, it appears, fresh off a BAFTA victory, is Alexandre Desplat for his work on the Best Picture frontrunner "The King's Speech." After bursting onto the domestic film scoring scene in 2003, the composer has been consistent with quality, witnessed by four Oscar nominations to date (this one being his third in a row). Few would argue that he's one of the most prolific composers working today. It kind of just feels like it's time to honor him with an Oscar, especially in a year that saw peripheral award-worthy work in "The Ghost Writer." Of course, the Academy at large won't be thinking in precisely those terms. They'll remember the frolicking piano rhythms of their favorite film of the year and feel perfectly content to chalk up another vote for the film.
One score that is well-respected among musicians and would likely have a better shot if it were just the discipline voting is A.R. Rahman's inventive work on "127 Hours." The film is a one-man show largely dependent upon its aural identity, and the musical contribution to that is considerable. Whether it be soft cues dropped in over sun-drenched Utah or manipulated string pulses over dramatic narrative beats, the score always seems to be working organically with the imagery. It's a lovely nominee and it'll bring in a few votes, but it'll be tough going against Best Picture thoroughbreds and the year's memorable blockbuster entry. Not that Rahman has much to complain about, two years removed from a pair of Oscars in a Best Picture sweeper of his own.
For a moment there it seemed like Trent Reznor (alongside Atticus Ross) was going to add an Oscar to his long list of achievements. The Nine Inch Nails front man came aboard David Fincher's "The Social Network" at the director's request and tackled things from a completely unique and atypical angle, without knowing the "correct" way to go about scoring a film. It was probably for the best, as he and his partner concocted an unmistakable sonic identity for a film that is tough to imagine without it. The awards began to pour in, making the film seem like the Best Picture frontrunner, and then, a Golden Globe, a television acceptance speech…the gold guy was within reach. But the Oscar season can be cruel that way. Perhaps it's still in the cards, but the Globes feel like ages ago now, no?
Will win: "The King's Speech"
Could win: "The Social Network"
Should win: "The Social Network"
Should have been here: "TRON Legacy"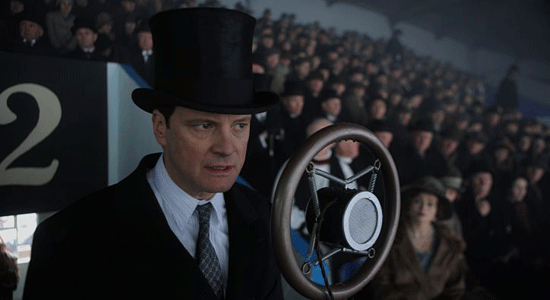 Check out my current rankings for this race at its dedicated Contenders page here.
What do you think deserves to win the award for Best Music (Original Score)? Have your say in today's sidebar poll!
[Photos: DreamWorks Animation, The Weinstein Company]