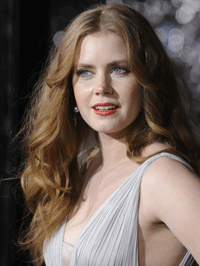 Amy Adams.  You know the girl.  Sweet, bright-eyed, purveyor of naive, fresh-faced screen creations.  You certainly wouldn't peg her as an expected fit for Charlene Fleming, boxer Micky Ward's tough-as-nails bartender girlfriend in David O. Russell's "The Fighter," but as it turns out, she delivers perhaps her most accomplished performance to date in that role, in that film.
"Sometimes people's confidence in you is the most input that you need," Adams says over lunch in December, in the middle of awards season but just before the Hollywood Foreign Press Association, and later, the Academy of Motion Picture Arts and Sciences, tapped her as a nominee for Best Supporting Actress in the film.
"A lot of times when I've approached projects — I haven't ended up playing these characters — but with characters that are different than how people see me, I feel a real sense of them challenging me.  'Can you do this?'  There's no real way to answer that question except to do it."
Adams wanted to broaden her creative horizons, but it's not that she was actively pursuing a different perception.  After all, she's currently starring in "The Muppets," so she isn't interested in escaping anything, she says.  In fact, she was planning on taking some time off to settle down and get married after filming "Leap Year" and working consistently for what felt like years, but she couldn't say no to the role.  In her toe-dipping for this and that, she certainly had her share of meetings with directors who couldn't get past "the 'Enchanted' hump," as she calls it.  But what Russell and producer/star Mark Wahlberg were able to do on "The Fighter," she says, is have complete faith from the start.  "That just allows you to do your job," she says.
In the film, Adams stars opposite a colorful ensemble, to say the least.  She says it was important, both to her and to Russell, that there be a potent juxtaposition between that and her on-screen relationship with Wahlberg's Ward.  When she first met Charlene, she was immediately taken by her silence, which was something she knew would be vital to the mixture.
"She was still and she listened more than she ever spoke," she says.  "She's observant, and sharp as a tack, doesn't miss anything.  I felt that it was really important that she didn't come with guns blazing.  It's almost like a gangster in a sense.  The toughest person in the room never has to prove they're the toughest person in the room.  So that was sort of the energy [I drew upon]."
Nevertheless, it was still important to the actress that, in taking on the kind of role audiences hadn't seen her tackle before, that she wouldn't be distracting, that it wouldn't be about Amy Adams doing something different.  "I didn't take the role to prove I could be tough," she says.  "I took the role because I loved the character.  So David and I worked on keeping her really grounded and really real and not having to prove she was tough.  That is the nature of the real Charlene."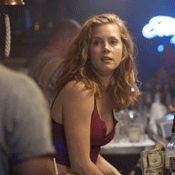 The actress finds herself very protective of Charlene, too.  Adams learned a lot about her past and her life, things she says aren't hers to tell.  "This isn't the story of Charlene," she says.  "She didn't open up her life to make a movie about it, so there's a lot of back story and a lot of stuff she dealt with that I kept and that I continue to keep to myself."  But that intimate knowledge of the person helped her channel certain nuances, she says, and provided an overall atmosphere of the persona.
The real Charlene calls it the way she sees it, to hear it from Adams.  And to be sure, Hollywood's glitz and glamor isn't really her thing.  She changed into jeans and a t-shirt after the film's Los Angeles premiere.  Adams was running around looking for her afterward, but she should have been looking for the girl in the V-neck tee, she says, not the girl in the black dress.  In any case, Charlene also isn't one to pour compliments on you, as Adams found out when she finally did track her down.
"I was like, 'So, what did you think,'" Adams recalls.  "And she was like [she takes on a thick Massachusetts accent], 'It was alright.  I liked the movie, but I wasn't that trashy.'  She's awesome.  She's of few words."
Speaking of that accent, it was something looming over the performance that Adams thought it best to ignore beyond the essentials.  She worked with a dialect coach for a little while early on, but Russell didn't want one on the set.  She says her goal was to learn the parameters and then just let it go.
"I think accents can be a crutch or they can be a hurdle," she says.  "You either lean on it as like, 'That's my character.  She's this girl with an accent.'  Or it becomes something that's really hard and keeps you from reaching the heart of the character.  I wanted to just sort of learn it and then listen to Mark, who's from the area.  But it was scary.  Whenever you're doing an accent that is so known for being difficult and is notoriously exposing, it can be intimidating.  You just have to forget about it."
All of that went into a potent stew that provided one of the film's most memorable performances, perhaps more so than front-running Best Supporting Actress hopeful (and Adams's co-star) Melissa Leo.
Leo, by the way, was someone Adams was dying to work with.  The two actresses crossed paths frequently during the 2008 awards season, as Leo was promoting "Frozen River" and Adams was promoting "Doubt." Says Adams, "We did a couple of interviews and round tables and I was like, 'I love this woman.  She's so cool.  I want to work with her.'"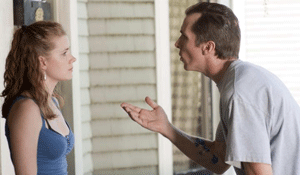 Adams also shared a fair amount of screen time with actor Christian Bale, whose performance as Ward's brother and trainer, Dicky Ecklund, has become the instant stuff of screen performance legend (and could net an Oscar for the actor's troubles).
"It was awesome," Adams says of those scenes.  "You try not to watch too much, because you're in the moment, but you knew he was doing something special.  But I never questioned that it would be that way from him.  He's always known for creative work and just being amazing.  But not in a way where you don't feel like he's part of the process.  He was there for me in the scenes.  He wasn't so caught up with himself that he's not there for you."
Flash forward to February and all three actors are nominated for an Oscar.  But for Adams, even though she admits it feels like a stock answer, she's trying to keep it all in perspective.  She remembers back again to the film's premiere.
"I felt like I had just arrived in Los Angeles and I had all that excitement and energy," she says.  "My film was showing at Mann's Chinese!  I was like, 'Oh my God!'  I let myself experience those surreal moments because I think they're so important, to remember that you weren't always this person, that there used to be a person who didn't have any of this or go to any of this and used to pound the streets of Los Angeles with 500 other blondes trying to get that one role.  It's important to me to take the time, to not squash it and try to be cool, but just be the big nerd."
[Photos: United Press International, Paramount Pictures]