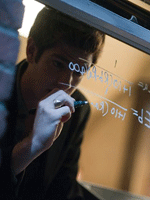 The American Society of Cinematographers (ASC) dished out its annual kudos this weekend, which makes for a nice segue into a discussion of the year's nominees for Best Cinematography. But it's important to keep a few things in mind when it comes to guessing what the Academy at large will spring for in this field.
First and foremost, technical accomplishment doesn't get you far with a number of people who don't really understand what kind of a feat, say, "Children of Men" is. Or "Black Hawk Down," for another example. It's all about what looks like a post card, because "cinematography" so quickly translates to "prettiest movie" for a great many voters, unfortunately.
The nominees are:
"Black Swan" (Matthew Libatique)
"Inception" (Wally Pfister)
"The King's Speech" (Danny Cohen)
"The Social Network" (Jeff Cronenweth)
"True Grit" (Roger Deakins)
Only one of these films actually showed up on my personal ballot this year.  But on the whole, it really wasn't a great year for the form. There were a few sterling examples of creativity, but they seemed few and far between in 2010.  I'll get into that next week when I publish my annual "top 10 shots of the year" column.
The best of the lot, in my opinion, is at the very top. Matthew Libatique has been working with Darren Aronofsky since the beginning, save for a brief departure from "The Wrestler" in 2008. The two have come together to offer unmistakably unique visions. The best partnerships — Stone/Richardson, Scorsese/Ballhaus, Spielberg/Kaminski, etc. — share a thumbprint, and the thumbprint on "Black Swan" was as bold as any of their collaborations to date. The only drawback is a creative decision to shoot on Super 16, which yielded a gritty quality that pumped up the atmospheric nature of the film. I'd have rather seen Libatique's gorgeous compositions in a slicker fashion, but nevertheless, the work is thematically rich and full of life, whether on the stage with Natalie Portman or in the darkest reaches of the narrative.
Another partnership that has been coming along as of late, and somewhat more prolifically, is Christopher Nolan and Wally Pfister. This year's summer blockbuster "Inception" marked their sixth collaboration of the decade, and it even netted Pfister the award from his peers at the ASC. Cinematographers would no doubt revel in the technical wizardry of a film like this, much like they did "The White Ribbon," "Children of Men" and "A Very Long Engagement" in recent years. But one wonders whether this one has enough weight as more than merely a "summer blockbuster" (which it most certainly is) in the minds of voters to yield a win from the overall membership. It would be a crowning moment for a director of photography well due after consistent output as of late, but I'm not so sure it'll happen.
This year's Best Picture frontrunner, if you haven't gleaned as much by now, is "The King's Speech," and the film's overall visual vocabulary is certainly unique and thematically relevant. There are stylistic flourishes here and there that also lend to the notion that this isn't just some anonymous piece of royal theater, as much as the film's detractors would like it to be, and Danny Cohen's nomination here and with the ASC showed that those who do this for a living felt it at least worth a mention. So now it's up to the 6,000 Academy members to decide if they want to sweep the film up here with a potentially healthy tally of overall wins or spread the wealth elsewhere. It's entirely possible the former instance pans out on Oscar night, but I would consider this instead a solid alternative.
I was personally quite happy to see Jeff Cronenweth nail down a nomination for his moody work on "The Social Network." It was a feat of digital filmmaking (the whole thing was saved to memory cards, in fact) and a graceful feat at that. I thought perhaps his luck would stop with the more digital-friendly ASC, but the Academy's cinematography branch offered him a tip of the hat as well. The film's chilly narrative lends itself nicely to the cool hues employed and there is a big set-piece in the Winklevi's rowing sequence to showcase the work beyond that.  But I doubt very much the overall membership will be drawn to this work as a winner in the field, ertainly not with a front-running period drama, a spectacle entertainment and an overdue veteran lensing a western in the mix.
Which brings me to my pick for the win. Yes, it's true, the ballots do not contain the individual names of nominees in the below-the-line categories. And yes, it's true, the Academy probably isn't aware of the fact that Roger Deakins is well overdue for an Oscar win. But "True Grit" is a film right up their alley in a field like this, full of picturesque Americana and one they saw fit to grant 10 Oscar nominations on the whole. So with that in mind, while they may be ignorant to the lenser's drought, the fact is it's finally a good year to bet on the guy as all of the arbitrary elements have finally dovetailed in his favor: "pretty" movie, Best Picture nominee, nothing else with sweeping vistas in the mix, etc. So I'd be more inclined to look to the BAFTA rather than the ASC this year, but it could be a photo finish.
Will win: "True Grit"
Could win: "The King's Speech"
Should win: "Black Swan"
Should have been here: "Enter the Void"
Check out my current rankings for this race at its dedicated Contenders page here.
What do you think deserves to win the award for Best Cinematography? Have your say in today's sidebar poll!
[Photos: Columbia Pictures, Paramount Pictures]