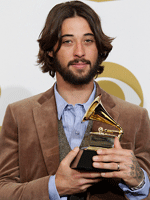 I didn't see the Grammys this weekend.  In fact, I tend to avoid them like the plague.  But it was nevertheless an impressive slate of winners, so that's a unique start.
In any case, it's worth pointing out that Ryan Bingham and T Bone Burnett's "The Weary Kind" wrapped up a long awards march by taking the award for Best Song Written for Motion Picture, Television, or Other Visual Media.  So add that to a list of accolades that includes an Oscar, a Golden Globe, a Critic's Choice Movie Award, and the Americana Music Association "Song of the Year" honor.  A great ride indeed.
"It's incredible," Bingham said to press backstage at the Grammys. "It's been a hell of a ride. All this stuff flies by so fast and happens so quick. Afterward you look back on it, let it soak in, and see what it's all about."
He's got it all figured out.  Meanwhile, Bingham and his band The Dead Horses will join fellow 2010 Grammy winners Arcade Fire, The Black Keys and Eminem at this year's Bonnaroo Music and Arts Festival, which announced its lineup today.

(Also worth noting: John Legend & The Roots won the Best R&B Song award for a different take on the track "Shine," which of course was featured in "Waiting for Superman" this year. Additionally Randy Newman won his fifth Grammy, for Best Score Soundtrack Album For Motion Picture, Television Or Other Visual Media for "Toy Story 3.")
[Photo: Associated Press]