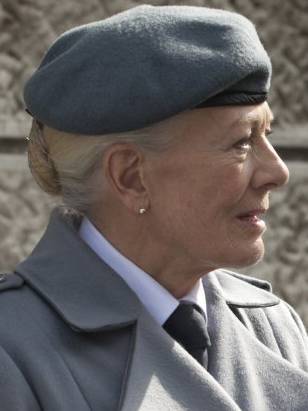 The cavernous Berlinale Palast theatre was packed to the gills for today's noontime press screening of "Coriolanus" (***), and small wonder — in a Competition lineup heavy on oatmeal fare boasting comparatively unfamiliar names, Ralph Fiennes's directorial debut is one of the few entries that affords viewers a little star-gazing.
Fiennes, of course, takes the title role in his revisionist take on Shakespeare's under-filmed tragedy, with Gerard Butler, Brian Cox and the soon-to-be-ubiquitous Jessica Chastain adding further name appeal.
As the crowd staggered out of the auditorium two hours later, the name being murmured most approvingly was that of the film's oldest and most distinguished star. And with good reason. As Volumnia, the proud, politically-minded mother of the titular Roman general, Vanessa Redgrave gives one of "those" performances, an Olympian masterclass in classical acting that conjures spontaneous emotional fire upon a bed of immaculate technique.
Just listening to the richly controlled tremors and modulations in her voice as she powers her way through a titanic final monologue — turning her son's political persuasions through reams of exquisite language — is enough to raise hairs on the back of your hands; all too rare are the opportunities to watch our greatest actors wrestle such material on screen.
Indeed, in recent years, Redgrave has reserved her most committed thespian efforts for the stage: as valued a supporting presence as she has been in film projects ranging from "Atonement" to "Letters to Juliet," it's safe to say she hasn't had a big-screen showcase this generous since "Howards End" nearly 20 years ago, and still, her work here outstrips that for difficulty and magnitude.
Berlin isn't usually the festival for such pronouncements (nor are such predictions ever wise, least of all in the dark days of February) but I'm going to make one anyway: Vanessa Redgrave will receive a 2011 Oscar nomination for Best Supporting Actress. If the performance itself weren't enough to set a campaign in motion, the fact that "Coriolanus" has just been acquired by The Weinstein Company certainly is.
If everything in Fiennes's film was quite as staggering as Redgrave, we'd be looking at a Shakespeare adaptation for the ages. In case that star rating at the top of this piece didn't tip you off, it's not. Vastly shorn of text, but tidily updated by screenwriter John Logan to a modern-day military setting that fuses Roman geography with British cultural reference points — in a delightful touch, BBC newsreader Jon Snow turns up as an iambic pentameter-spouting version of himself — "Coriolanus" runs hot, cold and very, very loud for much of its running time, until both Fiennes's conceptual ideas and the actors' energies peak in time for a knockout final act.
Fiennes's aggressive militarization of the material extends to hiring the great DP Barry Ackroyd, fresh from lensing combat films for Kathryn Bigelow and Paul Greengrass, to lend the film a vérité texture that, ironically enough, comes over a little dated; on another note, it's hard to gauge how aware Fiennes's is of tonal resemblances between his treatment and Richard Loncraine's Third Reich-flavored "Richard III." If the film is perhaps less radical than its makers imagine, however, its considerable achievement is that the update works, making contemporary political sense even within its ambiguous milieu.
Surprisingly, Fiennes's performance turns out to be a less reliable asset than his direction. With his capacity for calculating impenetrability, the actor was born to play this most unreachable of Shakespearean anti-heroes, but for every icily authoritative note he strikes, there's one of thin, ill-judged shoutiness that overeggs the fury in the Bard's words. Still, if Fiennes the director hasn't yet found a way to manage and discipline Fiennes the actor, he draws impressive work from the likes of Butler and Cox — while Redgrave's majestic, film-elevating turn says much for his ability to capture lightning in a bottle. Academy voters, I know you're busy with other matters right now, but take note.
[Photo: The Weinstein Company]