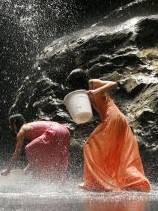 Determined to make up for my rather  feeble start to the Berlinale, I made it to five films on Sunday – and in a shock twist that defied the law of both averages and film festivals, I liked all of them to some extent, and two of them rather more than that. How appropriate that I get to put my poison pen away on Valentine's Day of all days.
I'll get to writing about "The Guard" (a scuzzily hilarious Irish cop comedy from John Michael McDonagh, brother of Martin) and Competition entry "Sleeping Sickness" (by some measure the best thing I've seen, or am likely to see, here) in a later roundup. The other three, however, demand to be grouped in a single post, just as Berlin programmers were making a point by scheduling them back-to-back: all of them were specialist niche films in 3D, marking the moment at which the technology formally stepped outside the multiplex and into the arthouse.
When Werner Herzog announced his intention to make his latest documentary in 3D, the howls of anguish from stern cinephiles could only have increased in volume if he'd added that it was actually going to be a Miley Cyrus concert movie. When his compatriot and contemporary Wim Wenders revealed similar plans for his non-narrative tribute to the late choreographer Pina Bausch, there were fewer protests, if only because after his last few features, nobody's been paying much attention to anything Wenders does these days.
So it's poetically perverse that, in the 3D battle of German New Wave Auteurs, it's Wenders who has – in my slightly aching eyes, at least – emerged the resounding winner. "Pina" (***1/2), a loosely constructed series of filmed interpretations of Bausch's performance pieces peppered with verbal tributes from her protégés, may not promise much to either 3D sceptics or non-aficionados of modern dance, but cinephiles of any persuasion would be advised to check it out. For in applying the technology to spontaneous physical performance, capturing the sharp, unpredictable thrust of bodies in motion, Wenders has made perhaps the most convincing case yet for 3D as an enduring cinematic tool.
The film's first of many wows is a comparatively simple one – as the camera crisply skims across a line of dancers hoofing one of Bausch's typically eccentric routines on stage, we glide seamlessly with it through a diaphanous scrim curtain. It's less an ostentatious show-off trick than a gesture of intimacy: we're being invited to share the performers' space in a way that even the immediate theatrical experience doesn't quite allow.
Wenders extends this emphasis on accessibility by staging several numbers in public spaces: the 3D again swings into spectacular effect during an impromptu performance on an overhead train, while a swoony pas de deux at a highway intersection is the film's single most gorgeous sequence. None of this would engage if Bausch's work – taking equal inspiration from ballet, dramatic realism and absurdist comedy – weren't itself so compelling cinematic; 3D notwithstanding, Wenders' visual approach is sensibly simple, letting the dancers, rather than the camera, do the work.
It's unfortunate, then, that the spoken testimonies (curiously, coming only from the female members of Bausch's healthily co-ed company) are so much less illuminating  than the actual dancing; all too often, the film follows a particularly exhilarating synthesis of music and choreography with a banal interlude of talking-head musing about vague concepts of strength and fragility. They're dancers, not speakers, so I hardly blame the participants for these dull stretches, but Wenders should have been content to let his muse's work speak for itself. That, however, is a minor caveat in a rapturous testimony to one essential artist from another – if it took 3D to revive Wenders' creative mojo like this, I can suffer through any number of Hollywood's misuses of the medium.
Coming after "Pina," Werner Herzog's appealingly low-key archaeological documentary "Cave of Forgotten Dreams" (**1/2) can't help but feel a little crusty in comparison. The maverick director's excitement over the possibilities of 3D is equally in evidence, but registers a little too enthusiastic, naïve even: he's still at the point where hurling spears straight into the audience seems like a neat idea.
When he reins in these impulses, however, the technology instils an appropriate sense of wonder in his subject: the extraordinary paintings inside the Chauvet caves of southern France, the earliest known human artworks in existence. The paintings themselves are a pleasure to ponder, and Herzog (who serves, with a hint of self-parody, as his own irrepressibly dour narrator) is infectiously jazzed at his notion that they stand as an early ancestor to the medium of cinema, but 30 minutes in he rather runs out of observations on this niche area of interest, inviting a string of increasingly dotty scientists to amusing rephrase largely similar theories.
It'd make a delightful short, but at 90 minutes, it's hard to escape the sense that he's playing for time – and that's before his lovably off-message coda about (of course) albino alligators in a nearby nuclear power plant. "Vaht vill zey make of ze paintings?" he intones solemnly, tongue barely remaining in cheek. I'd be equally interested to know what they make of this enjoyably boyish film.
If "Cave of Forgotten Dreams" revelled in its gosh-wow-look-at-me use of 3D technology, it couldn't have been applied much more ascetically than in "Tales of the Night" (***), the latest feature from veteran French animator Michel Ocelot, perhaps best-known for his lovely African-inflected children's tale "Kirikou and the Sorceress." His trademark animation style — highly stylized flat imagery with block coloring in a limited palette — is still in extreme evidence here: all characters and locations are rendered in spare, all-black silhouettes against iridescent, sometimes luridly patterned backgrounds. This visual system may seem a curious candidate for 3D treatment, but it works with remarkable subtlety: the third dimension identifies layer upon sliding layer of blackness, giving the film the shadow-box appearance of a live diorama.
But if the animation is typically bewitching from Ocelot, his storytelling rather lets him down on this occasion. The film is essentially a one-director portmanteau piece, linking simple fairytale narratives — a werewolf is saved by the love of a princess, an African villager fights off an opposing tribe with a magical drum, and so on — with a half-cocked meta framing device involving a group of animators brainstorming for ideas. The stories are short and sweet enough, but also decidedly samey, and the whole rather begins to evaporate as the parts go by. Visually, it's quite some treat, but the arthouse is no less susceptible than Hollywood to letting story slide amid the rich tangle of technology.