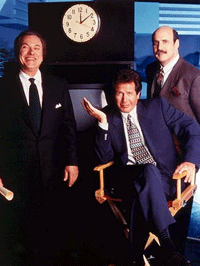 Catch up with the idea behind these weekend posts here.
This week flew by, I thought. Hopefully the next two will, too.
This is the first weekend without football in months.  I don't know what to do with myself.  Maybe I'll catch up on those non-Oscar-related Netflix discs that have been waiting patiently for me to have the time?  Read a book?  Get the hell away from my computer for a day?  I don't know.
I've randomly been revisiting The Larry Sanders Show lately.  It started out as some nostalgia to pass the time online the other day and eight episodes later, it looks like I might just push through all of it.  Great TV, and a landmark for that breed of comedy.  Any fan of "Curb Your Enthusiasm" owes it a debt.
The Oscar Guide has been coming along well. Thanks for participating in our daily polls. With that in mind, I thought I'd post the short category polls again this weekend, seeing as Magnolia Pictures and Shorts International released their package of nominees into theaters this weekend. If you get a chance to see them and still want to vote, now's your opportunity. I'll post them up again next weekend, too.
Speaking of the shorts, if you want an in-depth, well-reported look at the "Poster Girl" controversy that you probably haven't even heard about, I suggest diving into A.J. Schnack's piece.  There's always drama in the lead-up to the Oscars, and I guess Mitchell Block is this week's Melissa Leo.
Guy is in Berlin for the festival and will be reporting throughout the weekend on what he sees.  Be sure to stay tuned for that.  Otherwise, use this space as you see fit.  Open thread.  You know the drill.
[Photo: Home Box Office]