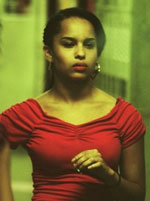 Well, it didn't take long for me to break my promise of daily festival reports. In the unlikely event that you were eagerly awaiting for my first Berlinale dispatch yesterday, I can only apologize: it's hard to review films you haven't seen.
A domino-like series of misfortunes conspired to make my first day of planned festival action entirely: a last-minute train cancellation from London caused me to miss my flight, while the rescheduled flight landed me in Berlin too late to register with the press office. Add the fact that I'm still limping round the city on a single crutch, and I am the poster boy for the Twitter hashtag titled #festivalfail.
On the plus side, I can inform you that the Competition title I missed yesterday — corporate thriller "Margin Call," whose starry cast includes Kevin Spacey and Demi Moore — was at least one that has been roundly dismissed. Meanwhile, while I gained no film-related knowledge yesterday, I can at least share a culinary tip: the best burger you've ever eaten in your life is to be found at a pleasingly rowdy American bar called The Bird in Prenzlauerberg. Book a flight, and thank me later. (I understand there's a second branch opening in Wyoming soon. I swear I'm not making this up.)
So it was that my festival experience only kicked off this morning, and even then, the start has been a slow one. A last-minute writing commitment interrupted my evening schedule, but amid other bumbling activities, I did take in two of the day's Competition titles — and while I'm feeling more generous than the critical collective on one of them, neither one looks terribly likely to set screens ablaze further down the road.
The first of them, a German-Anatolian immigrant dramedy awkwardly titled "Almanya — Welcome to Germany" (**), is one I'm reluctant to discuss at any great length — largely because it's just sweet-natured enough that any extended analysis of its clunky narrative framing, haphazard tonal shifts and perplexing lingual choices feels as untoward as yanking one of Pollyanna's pigtails. Certainly, the mostly German press audience laughed merrily along with the film, and such goodwill is sporadically earned by first-time writer-director Yasemin Samdereli, who at least has a droll way with a visual gag.
But occasional spots of bright humor aren't enough to redeem the crudely flashback-dependent narrative, which centers on the past and present lives of a squabbling but happy Turkish family as they carve new lives for themselves in Germany, achieving varying degrees of cultural integration. The past is characterized by the deadening heightened nostalgia of Giuseppe Tornatore on an off-day, while the present resembles a particularly high-strung episode of "Brothers and Sisters." The yawing gap between these modes isn't nearly as troublesome as Samdereli's ruinous decision to have all the principal dialogue in German, even in scenes where characters are supposed to have no knowledge of the language themselves; in a film purporting to celebrate the immigrant experience, this strikes a particularly disingeneous note.
The next film of the day, I thought, brought better news, though you wouldn't have thought to from the post-screening grumbles I heard in the foyer. "From first-and-last-time director Victoria Mahoney," cracked one particularly acidic critic, while a kinder one observed, "It's like a promising Sundance development project taken out the darkroom too early." The film in question was US indie "Yelling to the Sky" (***), and while it's an under-drawn and sometimes ungainly debut, I don't mind admitting to being quite taken with some of Mahoney's bolder formal flourishes.
Mahoney hasn't chosen the most unbeaten of paths with her story. Charting the emotional breakdown of abused urban teenager Sweetness (Zoë Kravitz), the script is an over-familiar mashup of "thirteen" and "Precious"; comparisons to the latter would be inevitable even if the film didn't star Gabourey Sidibe in a disorienting extended cameo as a vulgar high-school bully. (Mahoney hasn't made things easier for herself by picking "Sweetness" as her protagonist's Christian name, either.) After a tight, well-observed opening act laying out the tensions of Sweetness's domestic life, the film leaps too far and too fast in the second, with Sweetness's abrupt bad-girl makeover and headlong dive into narcotics feeling alarmingly pre-programmed.
But if Mahoney lets her script get away from her, her jaggedly stylized direction is a source of consistent interest. Some viewers will be maddened by her camera's selective approach to focus, isolating odd compositional elements as a visual reflection of Sweetness's in-the-moment uncertainties; similarly, her arresting use of pre-existing music, cutting back and forth between spooky balladry and hard breakbeats like a restless radio dial, will strike some as merely messy.
Mahoney is aiming for poetically heightened realism in the Andrea Arnold mold here, without the equivalent level of control or conviction — in its least confident stretches, the film threatens to designerize its characters' misery. But the reach and range in evidence here is scrappily promising, as is the ensemble. Kravitz is an uneven if not unaffecting lead, just lacking the force of personality to sell us on Sweetness's behavioral swings, but there's a remarkable performance from relative newcomer Antonique Smith as her put-upon older sister, a girl turned eerily weary before her time.
Tomorrow, a double-shot of German warhorses getting to grips with 3D — that'd be Herzog and Wenders, then. Plus, the latest animated feature from Frenchman Michel Ocelot, whose "Kirikou and the Sorceress" is so beloved by one Chad Hartigan. And quite possibly a return trip to The Bird.