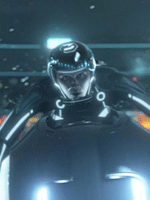 A few years back the sound branch did away with the bake-off process of determining its nominees for Best Sound Editing and the field was expanded to five. The visual effects branch followed suit this year and, maybe some day, the makeup branch will do the same.
The sound branch is unique in that it nominates in two discipline-specific fields. Often there is a considerable cross-over between Best Sound Editing and Best Sound Mixing as a result. The unfortunate thing is that the Academy at large doesn't understand what quality editorial and mixing is when it comes to these aural areas. Typically they just pick their favorite film and move on to the next category.
The nominees are:
"Inception" (Richard King)
"Toy Story 3" (Tom Myers and Michael Silvers)
"TRON Legacy" (Gwendolyn Yates Whittle and Addison Teague)
"True Grit" (Skip Lievsay and Craig Berkey)
"Unstoppable" (Mark P. Stoeckinger)
This is a pretty spectacular line-up of worthy work, for the most part. The more deserving animated title — "How to Train Your Dragon" — missed out, however, in favor of a record-maintaining tip of the hat for a Pixar entry.
This is one of a handful of areas where it would be safe to assume "Inception" will mop up. The film is the live action blockbuster of the year and netted a Best Picture nomination, so in lieu of a frontrunner from that category being present here, it makes sense to expect casual votes for its below-the-line elements. Then again, the film didn't score where anticipated this year (Best Film Editing being a dagger), so that could indicate significant detraction. The sound editing of the film is certainly deserving, though, more so than the bombastic mix. Richard King gave a well-defined texture to the many elements at play, even if they are at times fighting against a high decibel level. If he were to win, it would be his third trophy to date (and second for a Christopher Nolan film).
Ever since "Monsters, Inc." In 2001, Pixar has maintained a strong showing in the sound editing category. A nomination this year for "Toy Story 3" marks the sixth entry from the studio to show up here. Naturally, animation lends itself to sound editing, given that the entire sonic landscape of those films has to be manifested. But I can't be sure why the continued dominance for this studio, given that the last two nods, this one included, weren't the sound opportunities of other, more understandably lauded efforts. Nevertheless, I don't want to take away from the work of Tom Myers and Michael Silvers, true legends in the field. They certainly broadened the technical horizons of a beloved franchise with even more intricacy to relish on the soundtrack.
One of the best sound jobs of the year to me, on the whole, was "TRON Legacy." There were some branch complaints on the mix, deemed too loud (and largely as a result of filmmaker request, mind you), but I still thought it integrated all of the various elements well and layered Daft Punk's stellar score in nicely. But one thing that was absolutely inarguable was the editorial job by Gwendolyn Yates Whittle (nominated last year for "Avatar") and Addison Teague. The world of this film is fully realized in post-production, from the visuals on down through the sound design. Each element crackles and pops and serves to suck the viewer right down onto the grid and a vibrant world that has to be appreciated even if the story elements never fully come together or otherwise satisfy.
A decent pick for an upset would be the western "True Grit." The sound design of Coen brothers' films have grown more and more sophisticated throughout the years, and Skip Lievsay (nominated here with Craig Berkey) has been there every step of the way, going all the way back to "Blood Simple." The sound job on "No Country for Old Men" three years ago drew a lot of attention for its natural rhythms and dependence on subtlety. The work here is just as modest, but no less immersive. It puts you right there in the old west with Rooster Cogburn, the cracks of branches, the howl of wind gusts, the crack of gunfire, etc. With 10 nominations, it's safe to say the film went over well enough with the Academy, and being a major contender in the race over all could help it here.
Finally, the most surprising nomination in the field this year was Mark P. Stoeckinger getting singled out (in lieu of marvelous work on "Robin Hood") for Tony Scott's train chase actioner "Unstoppable." Steockinger, nominated last year for "Star Trek," was like a kid in a candy story on this job. Working on a train movie is no doubt a sound editor's dream. The overall mix didn't do his work too many favors but the individual textures are a delight and draw you right into the pulse-pumping excitement. It would actually be quite the handsome winner (it's my personal runner-up of the nominees), but, alas, the Academy isn't likely to spring for this popcorn contender (one that they probably didn't even see in the first place). The nomination will be a reward, and that's a fine reward in this case.
Will win: "Inception"
Could win: "True Grit"
Should win: "TRON Legacy"
Should have been here: "Robin Hood"
Check out my current rankings for this race at its dedicated Contenders page here.
What do you think deserves to win the award for Best Sound Editing? Have your say in today's sidebar poll!
[Photos: Walt Disney Pictures, Warner Bros. Pictures]