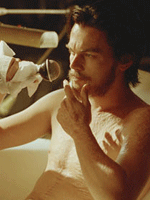 When I spoke to Christopher Nolan and Emma Thomas earlier this month at the Santa Barbara International Film Festival, the discussion of scaling things back with their next film came up.  After all, when it hits theaters next summer, "The Dark Knight Rises" will mark the third blockbuster in a row for Hollywood's wunderkind.
You can stretch it back to "Batman Begins" if you want, seeing as "The Prestige" was hardly a modest independent, given the period trappings.  So call it five in a row.
Back when Leonardo DiCaprio was developing his Howard Hughes biopic, "The Aviator," with director Michael Mann, Nolan had his own project in development.  Mann opted out of tackling another biopic after "The Insider" and "Ali" and DiCaprio asked his then recent professional acquaintance, Martin Scorsese, to take over the project.
Once "The Aviator" was on track, Nolan abandoned his own take on the famed, troubled industrialist.  At the time he called it one of the best things he'd ever written.  Interesting to note that DiCaprio told me last year of John Logan's script for his own project that it was the best script he'd ever had in his hand.
Jump ahead seven years and DiCaprio's working relationship with Scorsese has developed under two more films.  He's also collaborated with Nolan, on 2010's "Inception," the same year he explored (admittedly darker) psychosis on yet another film, Scorsese's "Shutter Island."
And Nolan is thinking about scaling it back a bit.
Based on Michael Drosnin's book "Citizen Hughes: The Power, the Money and the Madness," Nolan's script focuses on "the freakier decades of Hughes's remarkably secretive and OCD-addled life," according to this Vulture scoop.
If I were to guess, DiCaprio's interest in portraying those darker chapters of Hughes's life is probably what drew him to the material in the first place.  He has a professed affinity for unreliable protagonists, probably because it allows him to stretch to the fullest in a performance (I'm speculating).  "There's nothing obvious," he told me. "It forces you to sit with the other characters and be deceitful to yourself and to the people around you. No line is taken for what it is."
I'm catching a whiff of that on Nolan's project, and I'm quite honest when I say, why not cast DiCaprio?  A working relationship has been developed.  A shared interest in the subject will surely be an asset.  And frankly, going meta here wouldn't be a bad idea.  It might be quite fascinating.
I thought "The Aviator" was easily one of the best films of 2004.  And DiCaprio's performance therein is, without question, one of his best.  He's maintained a certain look over the years that has him on a sliding scale of believable age depiction, so I think he could sink back into that look and mode eight years removed (as I imagine it'll be mid-2012 before this project even gets off the ground, if it does).
It's probably not on the table as Nolan doesn't strike me as the sort to want that kind of perceived baggage on a film, but I think it could be quite special.  I hope it's at least considered.
[Photo: Miramax Films]