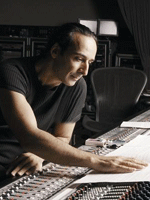 Alexandre Desplat has enjoyed a brilliant career in U.S. features as of late (on the back of immense talent, naturally).  2010 was a grand year for the composer as he, once again, balanced scoring duties on a number of notable films.
Today, the final announcement from the critics awards circuit has landed in the form of the International Film Music Critics Association's picks, seven of the nominations going to Desplat for his work on "The Ghost Writer," "Harry Potter and the Deathly Hallows: Part 1" and, of course, "The King's Speech." It's highly probably he'll walk away with an Oscar later this month, capping of one heck of a year.
John Powell netted five nominations for his work on "How to Train Your Dragon," while Daft Punk and Hans Zimmer each grabbed three for their respective actioners.  Interesting to note, however, is the complete absence of Trent Reznor and Atticus Ross for their innovative work on "The Social Network." Your guess is as good as mine as to why the group turned the other cheek there.  Ditto A.R. Rahman's work on "127 Hours," which is actually a beloved piece of work among musicians.  In any case, have a look at The Circuit for the full list of film nominees.
[Photo: Last.fm]